Chapter 2 : Princess of Wales (1525 - 1531)
As the years passed and no more living children were born to Henry and Katharine, Mary's importance as a possible inheritor of the Crown of England increased. By 1525, with no legitimate male heir, Henry was torn between naming Mary, or her illegitimate half-brother, Henry FitzRoy, as his successor. Mary was sent to Ludlow, to preside over the Prince's Council in Wales as previous Princes of Wales had done. Although Mary never received the title formally, she was frequently referred to as Princess of Wales, whilst FitzRoy received the semi-regal titles of Duke of Richmond and Somerset, and President of the Council of the North.
During Mary's period in Ludlow, her household was presided over by her Lady Governess, the Countess of Salisbury, with John Dudley, later Duke of Northumberland, as Chamberlain. Her education continued, now with a wider curriculum that included more history and other topics considered important for rulers. The rules for her household were carefully laid down – she was to eat only good food, be surrounded by courteous and well-trained servants, to exercise regularly and not to study or practice her music to a point of fatigue.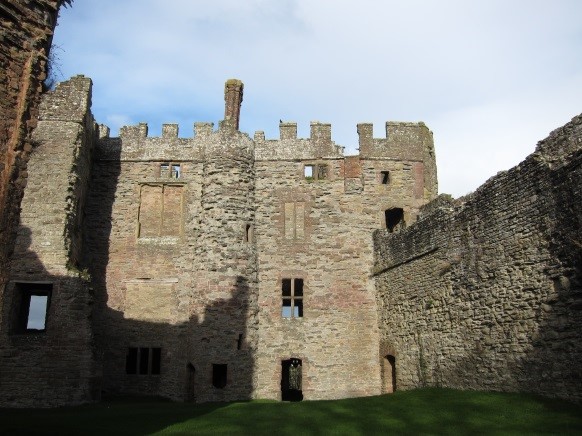 During this period, she divided her time between the great castle of Ludlow, the manor of Bewdley (sometimes also called Beaulieu or Tickenhill), and the enormous Thornbury Castle, which had been confiscated from its previous owner, the Duke of Buckingham, following his execution in 1521. She also returned to London to see her parents at least once. During this period, Mary's chief Latin tutor was Dr Fetherstone. Her mother wrote to Mary, saying that she would still like to receive copies of her Latin exercises to monitor her progress.
On 24th February 1525, the Imperial victory over France at the Battle of Pavia transformed Mary's life, although she would not have known it at the time and might never have associated the defeat of France, something in which the English rejoiced, with the disasters which followed. Charles V, Mary's betrothed, having won a resounding victory over François I, no longer needed an English alliance, and in 1526, he broke off his betrothal to Mary to marry their mutual cousin, the fabulously wealthy Isabella of Portugal. Henry VIII was furious – betrayed by a man he had treated as his nephew, his daughter humiliated, and England revealed as no more than a bit-player in European politics.
The Spanish alliance, which had seemed to promise so much in 1489 when it had been forged by Henry's father and Katharine's parents was now revealed as worthless. Katharine had not given him a son (in Tudor minds, fertility and obstetric issues were largely a woman's fault) and now her nephew had double crossed him – much as her father had done twice before. It was time to rethink English policy.
The Empire was riding too high and so alliance with France must be considered. Mary's betrothal to the Dauphin was not revived; instead, she was promised to François' second son, Henri, Duke of Orleans, who, as he was only eight, could not be expected to marry for six years. Then, in an extraordinary twist of diplomacy, to François himself. Whilst the latter idea might sound repugnant, as François was 32 to Mary's eleven and a notorious lecher, it had the merit that any child Mary had by him would be monarch only of England, as François' heirs were his sons by Queen Claude. This would minimise the period of subjection to France that would inevitably follow the marriage, if Mary became Queen of England.
The treaty was agreed in 1527, and Mary was brought to London to take part in the accompanying celebrations. Her father, proud of her, pulled off the cap hiding her hair, to show a 'profusion of silver tresses'. Nevertheless, the French ambassadors reported home that Mary was so slight in build that she could not possibly be married for at least three years.
Shortly after this betrothal, Henry VIII came up with a much better solution – in his own mind at least – to the problem of an heir. He sought an annulment of his marriage to Katharine of Aragon, who was now useless, both politically and personally in Henry's eyes, in order to marry a young woman of the court, Anne Boleyn, with whom he had fallen violently in love, certain she would provide a male heir.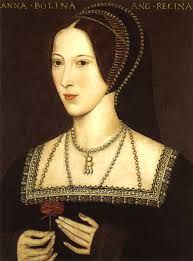 Katharine resisted the annulment with every fibre of her being – part of her reason was, presumably, her desire to protect Mary's inheritance. Although children of parents whose marriages were subsequently annulled were usually treated as legitimate if the parents had married in good faith, Katharine was well aware that any children of a second wife would be placed above Mary in the succession. For her to accept the annulment would not only deprive her daughter of her inheritance, but might also make her unmarriageable to a King.
Over the following years, as the annulment suit dragged on interminably, Mary's day to day life continued much as before, although in and around the court in London, rather than in Wales, and in May 1528 she spent a month with both parents at the palace of Tittenhanger, where Henry had retired to avoid the plague stalking the capital. Although her household was slightly reduced, Lady Salisbury remained in charge of it, and her lessons and recreations carried on smoothly.
Henry remained attached to his daughter, and perhaps hoped that, if the annulment were granted she would accept the situation and take her place as an illegitimate, but loved child, much as the Duke of Richmond did. Mary pleaded to see more of the King, and spent a whole day with her father in July 1530, at Richmond. But, as time passed, Anne became nervous that Henry's affection for his daughter would make him less eager to pursue the annulment and discouraged such visits.
She need not have feared – Henry was bent on marrying her, and Mary's blatant disobedience was beginning to irk him. Although only in her teens, Mary made her support of her mother quite clear. She was an intelligent and educated girl, and would have been well aware of the threat to her own position, but we cannot doubt that her support for her mother was a product of sincere love. Nevertheless, for a girl to disobey not just her father but her King, was an almost unimaginable act in an era when obedience to fathers, was considered the pre-eminent duty, even of grown men. Failure to make his adolescent daughter conform reflected badly on Henry's prestige.
Henry, not surprisingly, although mistakenly, concluded that once separated from her mother, Mary would accept his decision that her parents' marriage was invalid, so in the summer of 1531, the two were parted, never to meet again. Shortly after, aged fifteen, Mary fell ill, with sickness and stomach problems. Although she wrote to her father that seeing her mother would be her best cure, this was not permitted. Her public status, however, remained the same, and she granted an audience to the Venetian Ambassador who described her as small, but pretty and with a lovely complexion. He also praised her linguistic and musical skills.
Two years later, on the birth of Anne's daughter, Elizabeth, Mary's status was radically altered. Her rank was degraded from Princess to merely 'the Lady Mary, the King's daughter', and her household was disbanded. Lady Salisbury offered to remain and maintain the Princess' household at her own expense, but this offer was rejected – Henry believing that Lady Salisbury was stiffening his daughter's disobedience. Mary was to join the new baby at Hatfield, as her attendant. Mary had no choice but to go, protesting bitterly that she was still her father's only legitimate child and heir, although, she added (whether sarcastically or in a misguided effort to seem accommodating) that, since Henry acknowledged Elizabeth as his, she would call her 'sister' as she called Richmond 'brother'.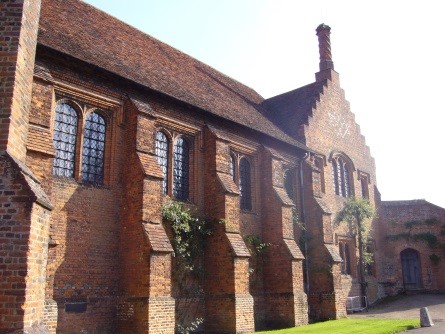 Her sojourn at Hatfield was deeply humiliating for Mary as she was subject to petty restrictions and bullying. She was not permitted to walk in the gardens, or to attend the parish church, or even the public gallery of the house, lest she attract public support. Her jewels were confiscated and her clothes were not replaced. Her mother had a letter smuggled to her, in which she warned Mary not to disobey her father, other than in matters which might imperil her soul, but not to enter into disputes or arguments. She was to keep herself chaste and, in a word of practical warning, keep her keys personally – presumably to prevent anyone slipping treasonable papers into her desk.
This oppressive treatment for a girl used to nothing but love and respect told severely on Mary's health, and she remained of a delicate constitution, prone to what were probably stress-related illnesses, for the rest of her life. She suffered migraines, stomach problems, and what sounds to modern ears like allergic reactions – perhaps hay-fever. Nevertheless, she refused to give in and would not, by any word or action, accept the downgrading in hers status or her mother's marriage. During this period, she did not see her father face-to-face as, on his visits to Hatfield, she was confined to her room.
On one occasion, as the King and his entourage was about to depart, she ran up onto the roof, and, his attention drawn to her by one of his courtiers, Henry, looking up and doffed his cap to her, with all of his train following suit. Later, although he defended his refusal to see his daughter, on account of her obstinacy, there were tears in his eyes.
In 1534, the Pope finally pronounced on the annulment case – his judgement was too little, too late. His confirmation of the validity of Henry and Katharine's marriage, and his injunction to Henry to banish Anne, and return to Katharine, fell on deaf ears. The English Parliament confirmed that Henry and Anne's marriage was legal, and that Elizabeth was heir to the throne. Refusal to sign the Oath of Succession and the later Oath of Supremacy (which made Henry Head of the Church in England) was considered treason, punishable by death.
Katharine refused the oaths, and in January 1535, Mary was informed that she too would be served with it. Perhaps the stress this threat occasioned was the trigger, as a couple of weeks later, Mary fell seriously ill. Despite a series of pleading letters from Katharine, she was not permitted to be nursed by her mother, although Henry sent his own doctors and allowed Katharine's doctor to attend her as well – perhaps to quash rumours of poisoning.
Somewhat recovered, towards the end of the year, Mary sent secret messages to the Imperial Ambassador, Eustache Chapuys, asking him to help her escape an intolerable situation, as the likelihood of being asked to swear the oaths loomed closer. Catching wind of the plan, the Government ensured that security was increased at Hatfield and the ports were watched.
In January 1536, Mary's mother died. She was not permitted to attend the funeral, nor did she receive the bequests of furs that Katharine made in her will. Mary's importance was less, in the eyes of the Emperor, than Katharine's had been, and, as François was by now resurgent in Europe, Charles was soon making appeasing noises to Henry.
Anne, having initially rejoiced in Katharine's death, began to feel the cold winds of the loss of Henry's favour. She made conciliatory gestures towards Mary, saying that, if her step-daughter would only submit and recognise Anne's and Elizabeth's positions, Anne would be like another mother to her, Mary could come to court, and would not even be obliged to carry Anne's train. Mary rejected the offer with disdain, and, pregnant again, Anne sent a message washing her hands of Mary – adding that, once her son was born,
'I (Anne) know what will happen to her (Mary)', which many interpreted as a threat.
In February, Henry appeared to be relenting in his treatment of his daughter. He had fallen in love with Jane Seymour, one of Anne Boleyn's ladies-in-waiting, and formerly a member of Katharine's household. Jane was sympathetic to Mary, and perhaps it was her influence that encouraged Henry to give Mary a large sum of money to distribute in alms as she and Elizabeth travelled between palaces.
By May, Anne Boleyn had been executed, and Jane was Queen in her place. Mary, who, as was natural, had blamed Anne entirely for her treatment, rather than her father, obviously hoped to be reconciled with Henry, writing a series of desperately supplicatory letters, first to Thomas Cromwell, Henry's chief minister, then to the King himself. She promised she would be as obedient as could be 'reasonably required', but there was no let-up in the pressure placed on her to accept both the Royal Supremacy over the Church and that her parents' marriage had been invalid. A delegation, headed by the Duke of Norfolk came to Hunsdon with orders to make sure she submitted. She still refused. The delegation, leaving orders for her to be locked in her room, departed.
Next, those courtiers who were known to be sympathetic towards her were arrested and questioned about their support for the Princess. Several were cast into the Tower of London, and it seemed only a matter of time before Mary joined them.
She had received a secret reassurance that the Pope would grant absolution from her oath if she signed under duress, so in June 1522, aged twenty, browbeaten, terrified and perhaps feeling guilty over the suffering that support of her was causing others, Mary gave in, and accepted both that her parents' marriage was invalid and that Henry was the Supreme Head of the Church.