The Price of Loyalty
by Samantha Wilcoxson
The Friendship of Katharine of Aragon and Lady Margaret Pole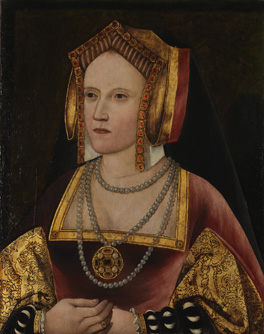 When Katharine of Aragon arrived in England in October 1501, she was almost sixteen years old. Her destiny was to marry Prince Arthur, but she could not have known that their marriage would last only a few short months and that her life would be filled with trials and tribulations. One friend made soon after her arrival in this new land would stand by her side through it all.
Margaret Pole was Katharine's senior by more than a decade, but that did not keep them from forming a close relationship that would last throughout their lives. As the wife of Sir Richard Pole, who was Prince Arthur's lord chamberlain at Ludlow Castle, Margaret was with Katharine through Arthur's illness and death shortly after their marriage. The older woman was well versed in tragedy herself. Her brother, Edward of Warwick, had been executed to clear the way for Katharine's journey to England.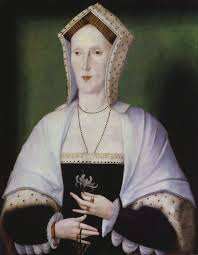 Details of the personal relationship between these two women are, unfortunately, not frequently recorded. However, we can discern the love and trust they had for each other through their shared history.
The connection between Katharine and Margaret began in May 1499 when Sir Richard Pole served at the proxy wedding of Prince Arthur and Katharine prior to her arrival in England. From this moment on, the two families would be linked. When Arthur and Katharine travelled to their new home in Wales following their November 14, 1501 wedding, Sir Richard Pole and Margaret were part of their caravan. Margaret does not seem to have placed any blame upon Katharine for the death of her brother, rather she comforted the young woman when her prince died five months later.
Sir Richard Pole had been serving Arthur for eight years, so the young man's death left Katharine and the Pole family wondering where their lives would go from there. Richard and Margaret remained in Wales, but Katharine was moved to London where the friendship between the women continued through frequent correspondence. In 1504, it was Katharine's turn to comfort Margaret when Richard died. The women shared a deep devotion to the Catholic faith which they leaned on throughout their tribulation. Katharine's mother also died in November 1504, not only causing her grief but making her a less appealing bride-to-be for the young Prince Henry. Margaret and Katharine struggled together, emotionally and financially, through the years until 1509, when the accession of Henry VIII in April 1509 changed everything.
That summer, Katharine was wed to the king, and Margaret was brought to London to attend the coronation and serve as one of Katharine's ladies. This must have been a high point in both of their lives that neither would have thought they would achieve after Arthur's death. Years of worry and neglect at the hand of Henry VII faded away as the friends were raised up by his son. Margaret was given a generous new allowance and her eldest son, Henry, was made one of the king's servants. Katharine, of course, was queen. In 1512, Henry VIII gave Margaret one of the ancestral Montague titles when he named her Countess of Salisbury, making her one of the most influential women in the kingdom.
If these years of favor were marred by Katharine's struggle to bear an heir, that trial must have seemed overcome with the birth of Princess Mary in 1516. Margaret was the girl's godmother and only left Katharine's household when it was to serve as Mary's governess. This appointment is strong evidence of the trust that both king and queen placed in Margaret. Katharine's childbearing outlook was not encouraging, and Mary was widely believed to be heir to the kingdom. Margaret was in charge of raising England's first queen regnant.
Their friendship was tested in 1521, following the execution of Edward Stafford Duke of Buckingham. He was distantly related to both Margaret and the king. His eldest son was also married to Margaret's only daughter. Buckingham's treason put the Pole family under suspicion as well, and Margaret was removed as Princess Mary's governess. However, Katharine never seems to have doubted her friend's loyalty, continuing to send Margaret New Year's gifts and succeeding in having her reinstated as governess in 1525. They may have also discussed the possibility of a union between Mary and Margaret's son, Reginald. (Rumors of this potential marriage came up again after Katharine's death and were more fuel for the fire of Henry's wrath that raged against the Pole family.)
Katharine and Margaret may have thought that they had escaped their trials, but the difficulties were just beginning. While the women had no trouble with a future that held Mary as queen, Henry felt differently. His plans to set aside Katharine had devastating effects on his wife, daughter, and the woman who was unfailingly loyal to them both.
Margaret did her best to keep life as normal as possible for the Princess through the years of bitter dispute between the girl's parents, but in 1531 Henry left Katharine and change was inevitable. Twenty-two years of being a faithful, supportive wife did not make up for the fact that Katharine had failed to give Henry a son. There was no hope left for Margaret's dear friend, but she stood ready to defend her daughter.
The future was filled with uncertainty until the birth of Princess Elizabeth in 1533. Katharine was in exile and neither Margaret nor Mary was allowed to visit her, but Mary had been left with her household until this point. Then they made the decision to defy the king. Had Margaret and Mary realized that refusing the king's order to return royal jewels that had been Katharine's would lead to the breaking up of Mary's household, they may have submitted. Margaret found herself dismissed, and Mary was taken from her 'second mother' and made an attendant in her infant sister's household.
Margaret retired to her own estates and did not see her friend again before Katharine's death on 7 January, 1536. The two had shared a friendship that lasted more than three decades. Henry never trusted Margaret again and had her executed without trial on 27 May, 1541.
Sources:
Margaret Pole: Countess of Salisbury 1473-1541 by Hazel Pierce