3. The Mary Tudor Pearl
Tudor & Stewart World in 100 Objects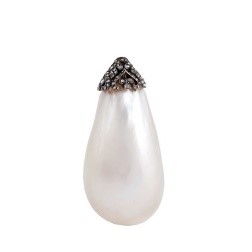 Pictures of Mary I after she became Queen show her wearing a large pearl, suspended from the jewelled ornament pinned to the centre of her bodice. At one time, it was believed that this was the pearl later known as La Peregrina (the Pilgrim), one of the largest pearls ever found. La Peregrina was owned by the actress, Elizabeth Taylor, but was actually smaller than Mary's which has been shown by recent research to be a different gem.
At 64.5 carats and 258.12 grams, Mary's is the third largest natural pearl known. If the diamond tip is included, it is a stunning 69.8 carats!
According to the most up-to-date information, Mary's pearl was found in around 1526, and became part of the jewellery collection of Isabella of Portugal – the mutual cousin for whom the Emperor Charles V jilted Mary. Empress Isabella died in 1539, leaving the gem to her daughter, Juana of Austria.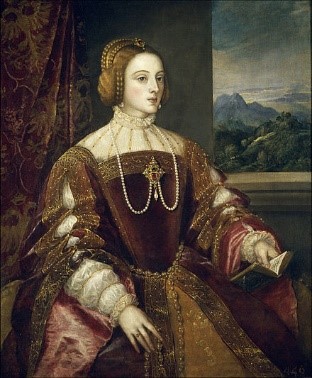 Juana married her double cousin, Prince Joao Manuel of Portugal, but returned to Spain on his death in 1554.The pearl was then sent to Mary I as part of the negotiations for her marriage to Juana's brother, Philip of Spain.
It has always been assumed that it was returned to Spain on Mary's death, but in her will, although she specifies other gems he gave her, including large table diamonds, she does not specify the pearl.
It may be that, as the two gems are linked in the pendant Mary wore, she considered it a single item, although that would not be my first interpretation of her bequest:
'[to my husband] to keep for a memory of me one jewel, being a table diamond, which the Emperor's Majesty…sent unto me by the Count d'Egmont at the insurance [presumably 'request'] of my said Lord and Husband and also the other table diamond which His Majesty sent unto me…and the collar of gold, set with nine diamond… and also the ruby set in a gold ring.'
The pearl has been assumed to be that which was then named in an inventory of jewels made in 1574 on the death of Juana of Austria. Unsold in the ensuing auction, it was eventually purchased in 1581 by a silversmith, Diego Ruiz for 3,300 reales.
It then disappeared from view until 2004, when it was purchased for £155,000. It is owned by Symbolic & Chase.
---
This article is part of a Profile on Mary I available in paperback and kindle format from Amazon