Chapter 7 : Marriage Plans 1554
The second item on the Queen's agenda, the getting of an heir, was just about practicable had she been in good health, but Mary had had menstrual difficulties all her adult life, was not particularly robust and was well over 37 when she became Queen. She needed to find a husband, get married and conceive in very short order to have any hope of an heir.
There was no shortage of candidates for her hand, and Mary's Councillors and subjects expected her to marry as soon as possible, not just because an heir was required, but because received wisdom was that women were not suited to being monarchs or in positions of power. This was not, of course, the day-to-day experience of most people, as, in all classes of life, women took an active part in managing businesses, arranging marriages, acting as their husband's partners and deputies and functioning independently when widowed. But although individual women were recognised as perfectly capable of managing affairs, the theory was rather different.
To clarify Mary's position as sovereign, it was enacted in her first Parliament that she had exactly the same authority as a male sovereign, and this was an understanding of her role from which Mary never deviated. But what would the position of her husband be? For other female heiresses, on marriage, the husband immediately owned all of her personal goods and possessions, and had a life interest in her lands. Similarly, it was thought that a Queen's husband would be King, for at least as long as she lived.
To marry one of her subjects would therefore cause enormous friction as one noble was elevated above the others. To marry a foreign prince risked Mary being taken abroad and England being devoured by his country. To remain unmarried, however, was not an option that anyone considered feasible, with the exception of Cardinal Reginald Pole. Pole, who had been exiled since the early 1530s, was the son of Mary's former Governess, Lady Salisbury, and had been named as papal legate to England by Pope Julius III, even before any decision had been made about returning to the Roman fold.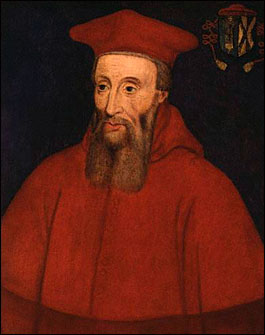 Mary had two marital options at home - the aforementioned Courtenay, who was the nearest male blood relative of the royal family of age to marry. But Courtenay had spent so much time in the Tower that he lacked the maturity and experience that Mary needed in a husband. The second home-grown candidate was Pole himself.
Despite being a Cardinal, Pole was not actually an ordained priest. He was in his early fifties and had been mentioned as an appropriate husband for Mary back in the 1530s, both by the rebels of the Pilgrimage of Grace, and the Exeter Conspiracy. However, Mary had a different role in mind for Pole. He was ordained priest and instituted as Archbishop of Canterbury following the death of Cranmer.