The Tudor Succession Problem
Chapter 6 : Mary I
The new queen was thirty-seven, and her heir, under the Act of Succession of 1544 and her father's will, was her half-sister Elizabeth. Desperate to provide her own heir, Mary married and hoped to have a child. She also toyed with the idea of changing the succession. The validity of her parents' marriage, and her own legitimacy, had been reinstated by Parliament, and she leant towards promoting her cousin, Lady Margaret Douglas, now Countess of Lennox, as her heir.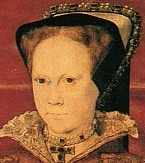 Lady Lennox was a good Catholic and had two sons, Henry Stuart, Lord Darnley, and Lord Charles Stuart, even though her own legitimacy (as noted above) had been questioned. Mary was not inclined to prefer Mary, Queen of Scots, as she was married to the King of France's son, and Mary, like all English monarchs, saw France as the arch-enemy.
In 1554, rebellion broke out, ostensibly against the Queen's proposed marriage with Philip of Spain. Had the rebels succeeded, they planned that Elizabeth would be married to Edward Courtenay (son of the Marquess of Exeter mentioned above and released from the Tower on Mary's accession) and the two would reign together. The rebellion was quashed and Courtenay exiled, dying in 1557, before Mary.
Another possible heir was still Reginald Pole. He had been recalled from exile and was now Archbishop of Canterbury – so, as a celibate priest, not a realistic prospect.His nephew, however, Thomas Stafford, son of Ursula Pole, rose up, claiming the throne. Very few people paid attention to his claims, and Stafford was executed.
Unfortunately for Mary, she did not have a child, although she drew up her will believing herself to be pregnant. She did not name an heir, merely referring to her 'heir by law appointed.'In the last weeks of her life, she accepted that that heir would be Elizabeth.