Early Life
Lady Margaret Douglas was born of the second marriage of Margaret Tudor, daughter of Henry VII, and widowed Queen of Scots, to Archibald Douglas, 6th Earl of Angus.
The marriage of Margaret's parents was not popular with the Scottish nobility, and it gave them the opportunity to remove 26 year old Queen Margaret from her position as Governor of Scotland during the minority of her infant son, James V.
Queen Margaret, feeling threatened by the new Governor, the Duke of Albany, fled to England, to take refuge in Harbottle Castle, Northumberland, where she gave birth to Margaret. After a difficult birth, mother and daughter spent some time at the court of the Queen's brother, Henry VIII, before a peace was patched up with Scots government and the two returned to Scotland in June 1517.
Over the next seven years, control of the Scots government was disputed, until Margaret's father eventually managed to snatch the reins of power in 1524, a move bitterly resented by the 12 year old James. As well as angering his step-son, Angus had fallen out with his wife, whom he separated from in around 1525. Queen Margaret eventually obtained an annulment with the proviso that Margaret remained legitimate.
In 1528, James managed to throw off the hated control of his step-father, and Angus was forced to retreat to his castle at Tantallon, where he was besieged, although unsuccessfully, by James. He took Margaret with him, but, leading the life almost of a fugitive, he sent her into England, to the protection of the Captain of Berwick, Thomas Strangeways. Margaret spent some months in the English borders, before being dispatched south to her uncle Henry VIII.
Henry seems to have developed a genuine fondness for Margaret and largely treated her generously, with expensive clothes, and positions in the household, first of his daughter, Princess Mary, then, when his marriage to Mary's mother, Katharine of Aragon, was annulled, that of his second wife.
During her time serving Anne Boleyn, Margaret was part of a circle of friends who enjoyed writing and circulating poetry. A collection of their verse, including some by Margaret herself, still remains, in a document known as the Devonshire Manuscript. In this group, was Lord Thomas Howard, the Queen's uncle, to whom Margaret, probably with the tacit, if not overt consent of Anne, became betrothed.
When Anne Boleyn was accused of adultery and treason, Margaret, although not implicated in Anne's downfall, was also in serious trouble, for having agreed to marry Lord Thomas Howard without the King's permission. He was concerned by the match, because, in his own eyes, he had no legitimate heir, and Margaret, as the daughter of his oldest sister, had a plausible claim to the throne. Lord Thomas was found guilty of treason – accused of having inveigled his way into Margaret's affections in order to make an attempt on the Crown. The couple were sent to the Tower. He never emerged, dying there on 31 October 1537. Margaret was forgiven, and left the Tower, being housed for a time at Syon Abbey, no doubt to dwell on her sins against her loving uncle.
She was forgiven, and Henry's fondness for her remained unabated. Margaret served Anne of Cleves, Katheryn Howard, and Katherine Parr, before being married, in 1544 to Matthew Stuart, Earl of Lennox.
Lennox was a member of the Scottish royal family – in his own view he was the man with the best right to inherit the throne should the baby Queen of Scots (eighteen months old at the time of the Lennoxes' marriage) die without children. This claim brought him into conflict with the Earl of Arran, who believed himself to be the senior member of the family – a claim which the majority of the other Scots lords appeared to support.
Lennox, initially a member of the pro-French party in Scotland (he had spent most of his adult life in the French King's service), defected to the English party. This was for a number of reasons – first, his plan to marry the Dowager Queen, Marie of Guise, the main leader of the French party, came to nothing; second, Arran, initially pro-English, changed sides, and third, he came to an agreement with the Earl of Angus, and Henry VIII, that, if he supported the English desire to dominate Scotland and marry the young Queen to Prince Edward, he would be rewarded with the hand of Lady Margaret.
Despite the practical motives for the marriage, Margaret and Lennox loved each other sincerely, and devoted their lives to promoting the dynasty they hoped to found. In all, they had eight children, but only two, Henry, Lord Darnley, and Lord Charles Stuart, survived to adulthood.
Planning for the Future
After the death of Henry VIII, in 1547, Margaret, who remained a Catholic to the end of her days, was not comfortable in the reformist court of Edward VI, and she and Lennox spent more time at their various homes in the north – Temple Newsam, Jervaulx, Settrington and Wressle.
Lennox was active on the English side in the War of the Rough Wooing, but Margaret's father, after many years in the pay of Henry VIII, had returned to his old allegiance, when, on the death of James V, he was permitted to return to Scotland and most of his lands were returned. Margaret's father and husband were thus on opposing sides during the late 1540s.
Margaret was aggrieved with her father for another reason too. He had married again and produced a son, and he used this occasion to entail his lands on his heirs-male. The Earldom of Angus had previously been heritable by a woman, and when her half-brother died young, Margaret was horrified to realise that her inheritance would revert to her uncle, whom she accused of ' false flattery' to her father. Angus appeared to be sorry about the breach, but he did not revoke the entail.
Lennox spent much of the 1540s and 1550s attempting to have his title and lands (which had been confiscated when he defected to England in 1545) restored. On the accession to the English throne in 1553 of Margaret's cousin, and close friend, Mary, she added her voice to the Lennoxes, and requested Queen Marie both to admit Margaret to the Earldom of Angus on the death of her father, and to restore Lennox. Queen Marie did not oblige.
During the reign of Mary, Margaret was treated as the second lady in the kingdom, given precedence over the Queen's half-sister, the Lady Elizabeth. Mary would probably have preferred to be succeeded by Margaret – a Catholic, and the mother of a son – but it was politically impossible to change the succession.
When Mary died in 1558, Margaret, from having been the Queen's closest friend, now felt the cold winds blow. Elizabeth did not invite her to remain at court, and she withdrew to her estates. Before long, however, both Lennox and Margaret were summoned to London to explain why they were plotting a marriage between their son and the recently widowed Queen of Scots. They vigorously denied any treasonable intent, and, eventually, were freed.
Nevertheless, they continued to work for such a marriage in secret, and in 1565, managed to achieve their ambition. Lennox, safe in Scotland, where his son was now King-consort, was restored to his estates, but Margaret remained in England to face the wrath of Queen Elizabeth. She was dispatched to the Tower again, and only released when Lord Darnley was assassinated. Her grief was so great that even the angry Elizabeth pitied her.
Initially, Margaret and Lennox were convinced of Mary, Queen of Scots complicity in Darnley's murder, but later, Margaret seemed to change her mind.
More grief was to come when Lennox, who had been permitted by Elizabeth to return to Scotland as Regent for his young grandson, James VI, was killed in 1571– possibly assassinated.
Nevertheless, even with her beloved husband and elder son dead, Margaret was not the woman to sink into despair or lethargy. She had a second son, who was a plausible heir to the English throne, should James VI be rejected on account of his nationality. All Lord Charles lacked was money. Fortunately, she had a friend, Elizabeth, Countess of Shrewsbury (or Bess of Hardwick, as she is known) who had a daughter, who, although not of distinguished parentage, had plenty of cash.The two ladies hatched a plan to bring the young people together and effect their speedy marriage.
Queen Elizabeth was, once again, furious with her cousin and Margaret was left to contemplate the walls of the Tower for a third time. Margaret herself complained that she had been imprisoned three times for 'matters of love' – her own affair with Thomas Howard, and the marriage of her two sons. Most of the government however, believed that it was naked ambition on the part of Margaret, rather than any softer emotion.
Lord Charles and his wife had a little girl, Arbella, but Charles died not long after. Margaret, at the end of her life had outlived her husband and all eight of her children. Nevertheless, she had two grand-children, both of whom had strong claims to the throne of England. She could be certain that she had done her dynastic duty.
Margaret died on 9th March 1578, and was buried, at Elizabeth's expense, in Westminster Abbey. Some thirty years later, her grandson, James VI, and now James I of England, erected a splendid memorial to her. On her tomb are inscribed the following, the first in English:
"HEER LYETH THE NOBLE LADY MARGARET, COUNTESSE OF LEVENOX, DAUGHTER AND SOLE HEIRE OF ARCHIBALD EARLE OF ANGUISE, BY MARGARET Q.OF SCOTTES HIS WIFE THAT WAS ELDEST DAUGHTER TO KING HENRY THE 7, WHOE BARE UNTO MATHEW EARLE OF LEVENOX HER HUSBAND 4 SONNES AND 4 DAUGHTERS. THIS LADY HAD TO HER GREAT GRANDFATHER K.EDWARD THE 4, TO HER GRANDFATHER K.HENRY THE 7, TO HER UNCLE K.HENRY THE 8, TO HER COUSIN GERMANE K.EDWARD THE 6, TO HER BROTHER K.JAMES OF SCOTLAND THE V, TO HER SONNE KING HENRY THE FIRST TO HER GRANDCHILD K.JAMES THE 6. HAVINGE TO HER GREATE GRANDMOTHER AND GRANDMOTHER 2 QUEENES BOTH NAMED ELIZABETH, TO HER MOTHER MARGARET Q.OF SCOTTS, TO HER AUNT MARYE THE FRENCHE Q, TO HER COUSYNS GERMANES MARY AND ELIZABETH QUEENES OF ENGLAND, TO HER NEECE AND DAUGHTER IN LAW MARY Q.OF SCOTTS. HENRY SECOND SONNE TO THIS LADY WAS K.OF SCOTTS AND FATHER TO JAMES THE 6 NOW KING. THIS HENRY WAS MURTHERED AT THE AGE OF 21 YEARES. CHARLES HER YOUNGEST SONNE WAS EARLE OF LEVENOX FATHER TO THE LADIE ARBELL. HE DYED AT THE AGE OF 21 YEARES AND IS HERE INTOMBED".
And the second in Latin:
"Sacred to the memory of MARGARET DOUGLAS, wife of Matthew Stuart, Earl of Lennox, granddaughter to Henry VII, King of England, by his daughter: joined by the closest ties of kinship to most puissant kings, grandmother to James VI of Scotland, a lady of most pious character, invincible spirit, and matchless steadfastness. She died the tenth of March, year of Our Lord 1577. Margaret, mighty in virtue, mightier yet in lineage: ennobled by kings and by her forebears; descended from Scottish and English princes, she was also a progenitor of princes. Those things that belong unto death, she released to death most joyfully, and sought God, for she belonged to God before" .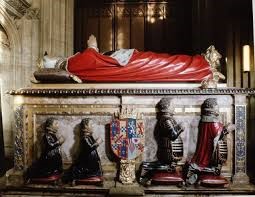 Lady Margaret Douglas
Family Tree