Mary, Queen of Scots: Appearance and Character
Chapter 1: Appearance
Mary, Queen of Scots has fascinated people for over five hundred years. In her own life time, her personal charm captivated almost everyone she met. Very few people could resist her – her mother-in-law, Catherine de' Medici; John Knox – her arch-enemy; and Sir Amyas Paulet, her final gaoler were among the very few who did not feel her personal magnetism.
Of course, personal magnetism, and the indefinable quality of charisma which, although rarely found, once met, is never forgotten, are not sufficient to compensate for failings elsewhere. Perhaps Mary's very charm led her to believe she could talk her way out of any situation, and to neglect the more mundane aspects of politics – understanding your rival's ambitions, and putting yourself in their shoes.
Throughout her life, comments on Mary's appearance and character were numerous, so, whilst charm cannot be captured on a page, or in a portrait, we can form an idea of the effect 'the fair devil of Scotland' had on those around her.
The very first mention of her is in mid-December 1542, not long after her birth. She was premature, and described as a 'weakly child, not like to live.' Within a short time, she began to thrive, and by March 1543, Henry's envoy, Sir Ralph Sadler, could report that she was 'a right fair and goodly child, as any that I have ever seen of her age'.
During the negotiations for the Treaty of Haddington, one of the French envoys, de Beaugré, wrote that it was 'not possible to hope for more from a princess on this earth'. Naturally, he was not going to criticise a child who might one day be his queen, but other reactions were similar.
By the time Mary arrived in France, in summer of 1548, she was well-grown for her age. Her grandmother, Antoinette de Bourbon, Duchess of Guise, described her as 'very pretty indeed', and likely to be a beautiful woman, with an especially smooth complexion. Her fond grandmother described her eyes as deep-set, beneath a high forehead. Their colour was light-brown, and her hair was very fair, although it later darkened to red-gold. As much as anything, Mary's physical attractiveness was in her grace and lightness of movement.
Once grown, Mary was exceptionally tall – almost 6ft, but she remained light and graceful, and, before the long years of imprisonment, she was trim and athletic – riding, hawking, playing real tennis, and dancing. Her hands (like her cousin Elizabeth's) were thought particularly fine – long, white and graceful.
The pictures we see of Mary today do not give an idea of outstanding physical beauty – although of course, tastes change, so perhaps she was one of those people whose beauty requires animation to sparkle.
One of the earliest pictures of her is by Clouet, the court painter to Henri II. He sketched her at the age of about nine. The picture is currently in an unknown private collection.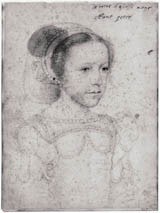 He painted her again, about four years later, and the picture is now in the Bibliothéque Nationale.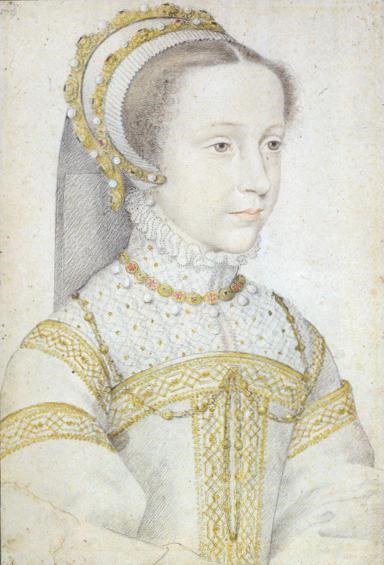 Clouet was also the painter of this well-known portrait of Mary as a young woman, which, considering the action of her hands, may be a betrothal portrait, dating from just before her marriage to the Dauphin François.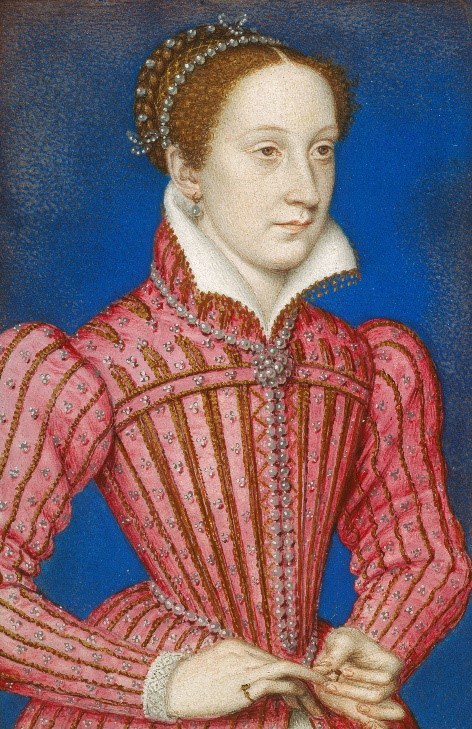 The marriage lasted less than two years, and Mary was plunged into the white mourning that was de rigeur for French queens. The whole veil arrangement is hardly flattering, but it was incumbent on her to follow etiquette closely.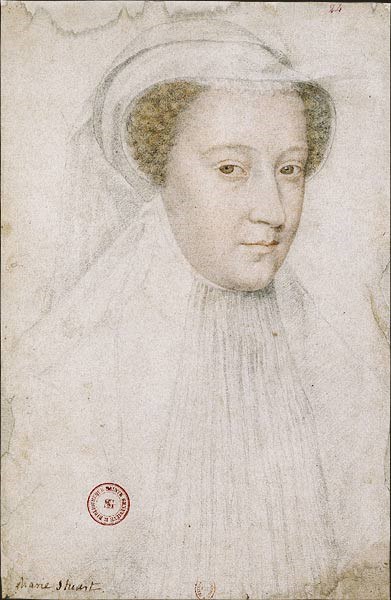 Only two probable portraits of Mary during her personal reign in Scotland are known – in both she is still wearing the black and white mourning for François, suggesting that they were painted before her marriage to Darnley. The costume of the first is that of the very early 1560s, even reminiscent of the clothes of slightly earlier, making it possible that it predates her widowhood, and that she was wearing black and white for reasons other than mourning.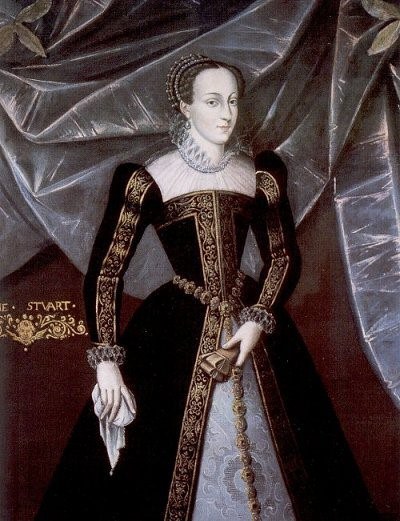 The second shows the dress of the mid-to-late 1560s, and includes the knot of pearls in the betrothal portrait above.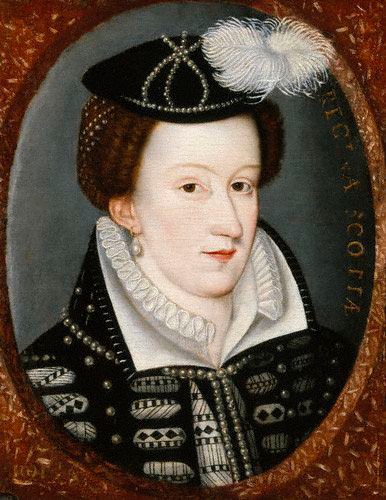 Whilst there are numerous portraits dating from the time of her captivity, it is unlikely they were all painted from life – Elizabeth would certainly not have given consent for Mary to be painted. Shrewsbury may have given permission for a sketch to be made, or turned a blind eye to a one being made and smuggled out. From that one likeness, the others would have been derived. They are all variations on a theme – the queen in mourning, with the accoutrements of her religion.
They are summed up in the posthumous painting of her, commissioned by Elizabeth Curle, one of the ladies who attended her during her captivity.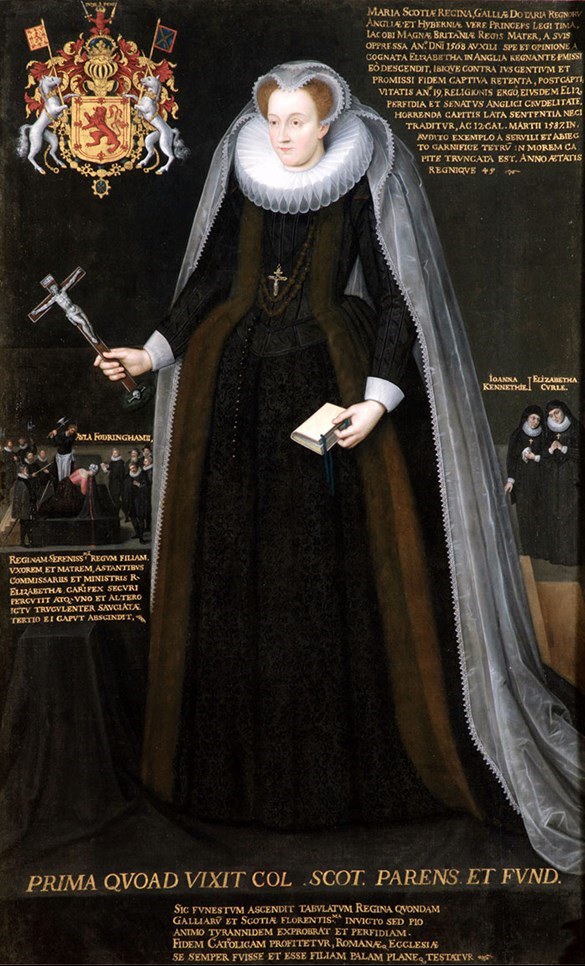 Although Mary's health was robust in the sense that she was active and energetic, and that when called upon to do so, she could exhibit great reserves of physical courage and stamina, she suffered frequent sickness – copious vomiting, pains in her side, weakness in her limbs and even an almost catatonic state whilst in Jedburgh.
These symptoms have led to the theory that she suffered from porphyria, a condition that has both physical and mental symptoms, some of which seem reflected in her patterns of illness. Once she was unable to take the exercise she needed, she put on weight, and by the end of her life was so lame from pains in her limbs that she struggled to walk.