1. A Cope
Tudor & Stewart World in 100 Objects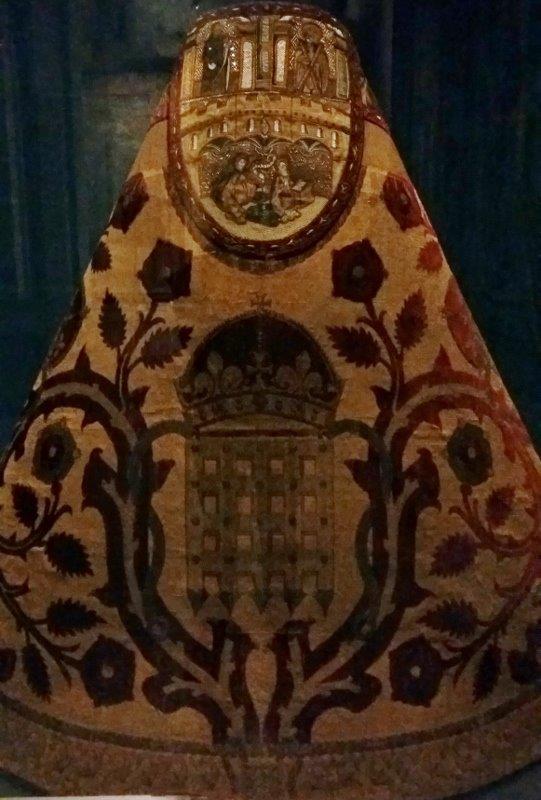 For our first object for the Tudor & Stewart World in 100 Objects, we have selected a cope. A cope is one of the most important components of priestly vestments. Richly decorated, they were often given in wills and were sometimes made of the donor's most expensive clothes. In an era when fabric was proportionately much more valuable than it is today, materials were refashioned more than once.
Copes, which are rather like cloaks, were designed to be seen from the back. In accordance with the traditional Catholic practice, the priest had his back to the congregation as he held up the Sacrament, so the decorative panel on his cope was designed to be seen.
This particular cope is made of cloth of gold and velvet. Cloth of gold, as one might suppose, was one of the most expensive fabrics available. Each thread is twisted with fine gold to shimmer and reflect light. Velvet, too, was precious and confined, under the Sumptuary laws, only to the highest echelons of society. The cloth of gold was woven in Florence.
The cope is embroidered with the Beaufort portcullis, under a Crown, together with a twisting vine of red roses, and this use of heraldic images gives us a clue to the identity of the donor. It was part of the vestments used in the Royal household. It was bequeathed by King Henry VII in his will to the Abbey of Westminster, specifically to the Lady Chapel which he founded, and where he is buried together with his wife, his mother, whose Beaufort symbols are so exalted, and many of his descendants.