2. The Howard Grace Cup
Tudor & Stewart World in 100 Objects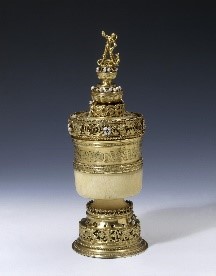 This beautiful object, which can be found in the V & A British Galleries, is known as the Howard Grace Cup. The bowl is of ivory, and is alleged to date from the time of Thomas Becket, Archbishop of Canterbury, murdered by four of Henry II's knights in 1170.The cult of Becket was one of the most devoutly followed in England throughout the Middle Ages with a huge number of boys being named for the saint even in the late fifteenth century.
The ivory bowl is mounted on silver, hallmarked London in the year 1525-1526, and has a model of St George slaying the dragon on the lid. St George is wearing very up-to-date armour!
The inscription reads 'Vinum tuum bibe cum gaudio' – drink your wine with joy, which reflects the object's purpose. A grace cup continued the old tradition of the wassail, in which the diners toasted each other and passed the cup around.
The object has been in the family of the Howard Dukes of Norfolk since 1614.


More information may be found on the V & A website, here