6. Holinshed's Chronicle
Tudor & Stewart World in 100 Objects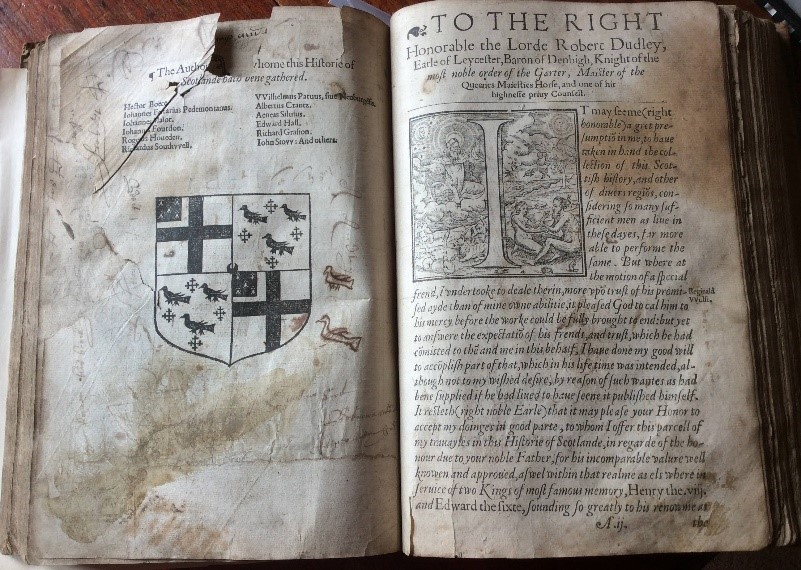 Holinshed's Chronicles are one of the most important sources for historians of the Tudor age. The original scheme for the work was one of prodigious ambition – no less than an entire history of the world from the creation to the time of writing.
The mastermind behind the project was a Flemish bookseller – Reyner Wolfe, but he died before his great plan could be completed. So far as the British Isles were concerned, the project was inherited and carried forward by his assistant, Raphael Holinshed (c. 1525 – c. 1580).
The first edition of the History of England, Ireland and Scotland was written by Holinshed, together with three others – William Harrison, an Anglican clergyman (1535 – 1593), Richard Stonihurst, an Irishman who collaborated with his friend, Edmund Campion (later executed as a traitor for his ordination as a Catholic priest and subsequent Catholic mission).
Once completed, the work was printed in 1577 by Henry Bynneham (c. 1542 – 1583) and illustrated with copious woodcuts.
The vast work was immediately popular – used by Lord Burghley and Sir Philip Sidney and Edmund Spenser as a reference work.
By 1587, a second edition was issued. This was extensively reworked and extended – in particular the history of Ireland section was rewritten by Protestant John Hooker. Additional contributors were John Stow, (c. 1525 – 1605), William Patten (d. c. 1598) and Francis Thynne (c. 1545 – 1608).
As Holinshed was by then dead, the overall management of the second edition was undertaken by Anthony Fleming. The printer, too, changed, Bynneham having gone bankrupt, to Henry Denham and Ralph Newbury (c. 1536 – c. 1604).
The edition pictured is that of 1577 in a private collection. It is fascinating as it has the margins and blank pages have been used for doodling and making notes. It is bound in brown leather and is about the dimension of a standard hardback book – perhaps a little squatter.
If you'd like to know more about this fascinating source, see http://www.cems.ox.ac.uk/holinshed/index.shtml