9. Thomas Sutton's Strongbox
Tudor & Stewart World in 100 Objects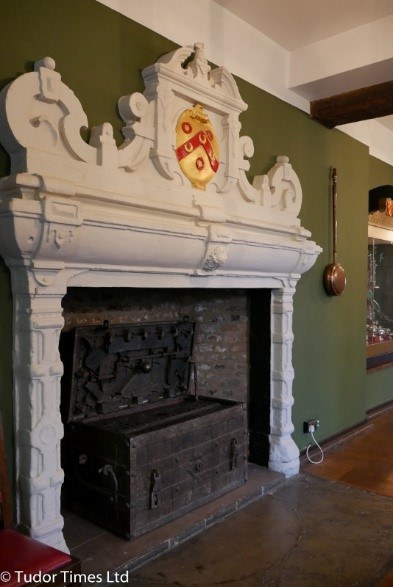 Thomas Sutton, born in Knaith in Lincolnshire, had a varied career as an officer of the Crown, and later as a banker and money lender. Married to a connection of the Dudley brothers, the Earls of Warwick and Leicester, he benefited from their closeness to the Queen to acquire first the position of Master of the Ordnance in the North at the time of the Rising of the Northern Earls, and later, some valuable manors.
He amassed considerable wealth through coal-mines that he owned in County Durham and then, setting up as a banker and money-lender quickly gained a clientele from the highest ranks of society, including Lord Burghley. Like every other banking firm or money-lending organisation, Sutton kept his money in his house, in a strong box.
The box pictured is housed at Sutton's Hospital, in the old Charterhouse in London, the charitable foundation he created. It is believed to be Sutton's own.
It stands about two ft high by about 3 ft in width and 18in deep (60cm x 90cm x 45cm). It is constructed of steel with large iron handles at either end. In style, it is similar to strong-boxes produced in Germany, and, as steel working was more advanced in Germany and Italy than in England, it was probably imported, with Nuremburg being its most likely origin.
It needed to be portable, as it would have travelled with Sutton when he left London for his other properties – but it could not be so portable as to make theft easy. A similar, but larger, box in the Metropolitan Museum weighs 768lb (345kg).
The security measures taken were complex. The hasps on the front hinged up to cover the eye-rings on the lid, and were held in place by two large padlocks. Padlocks were invented by the Romans, and by the sixteenth century several different shapes with varying mechanisms were available, including combination locks. Sutton's padlocks are not on display.
In the middle of the front panel, there is another lock – which may have been false. The main locking mechanism was operated with a key in the middle of the lid.