Margaret Plantagenet: Life Story
Chapter 9 : The Wrath of a Prince (1538 – 1541)
Throughout the 1530s, Margaret's sons (other than Reginald) had supported Henry VIII's Government, accepting the Act of Supremacy, and the Act of Succession.
Even after the nightmare of Reginald's 1536 letter, Montague was retained at Henry's side. He attended the Earl of Sussex at the christening of Prince Edward at Hampton Court in 1537 and supported Lady Mary in her role as Chief Mourner at the funeral of Jane Seymour.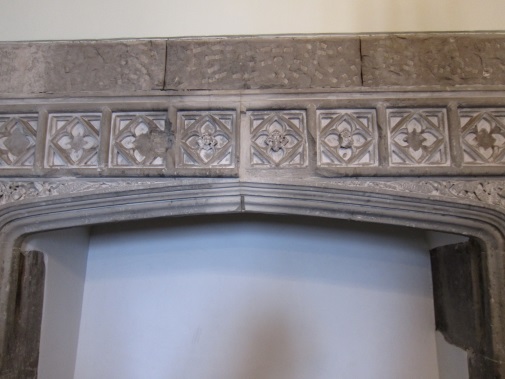 However, by 1538, Geoffrey was blotting the family copy book almost as badly as Reginald, although in Geoffrey's case it was not principle that he was defending. Geoffrey was notoriously feckless, quarrelsome and debt-ridden, although these faults were, for many, redeemed by his charm. Nevertheless, a mounting series of ill-judged incidents led to him being refused entrance to Court on the day of Prince Edward's christening.
Meanwhile, Henry VIII was still determined to have revenge on Reginald, whom the Pope had provokingly named as a Cardinal in 1537, despite Reginald not actually being a priest, and assassins were sent to seek Reginald out in Europe, although without success.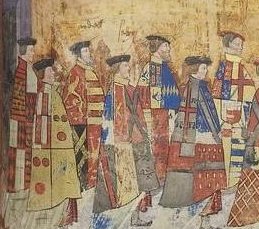 Despite Montague's best efforts to conform, and Margaret's quiet retirement, events were closing in on the family. On 29 th August 1538, Geoffrey was arrested and taken to the Tower of London, where he languished for two months before being questioned: presumably the delay was planned to give him plenty of time to reflect on the wisdom of pleasing the King with his answers to his interrogators.
He was joined in early November by Montague, the Marquess of Exeter, Henry's first cousin, and various others. All were charged with treason.
On 12 th November, the Earl of Southampton and the Bishop of Ely arrived at Margaret's home at Warblington Castle. She was questioned, then taken to confinement at Cowdray Castle, Southampton's seat.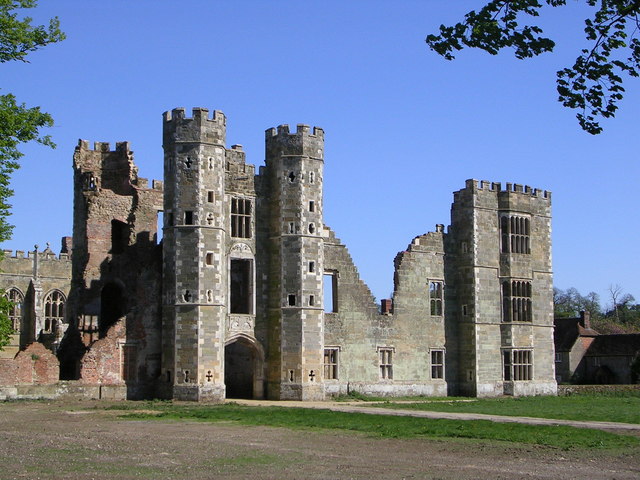 The evidence against Montague and the others relates to letters and other communication between the Geoffrey and Montague at home, and Reginald, still blasting the King from the safety of Europe. The content of the letters was the usual litany of complaints about the world being turned upside down, and warnings that Reginald was under threat from assassins. Geoffrey, being loose-tongued, had talked foolishly, and there was a fair case against him.
Unfortunately, whilst trying to limit the damage he had done, Geoffrey mentioned other names, including Montague's and the more he tried to say to show they were innocent, the worse it sounded. Terrified (as would we all be) by the threat of torture and the fear that he would implicate his family, Geoffrey tried to commit suicide. Prevented, he was interrogated again.
Meanwhile, Margaret was being questioned at length at Cowdray. In the answers, copied at the time and signed in her own hand, she disclaimed the slightest involvement of either herself or Montague with any sort of treason.
"If ever it be found and proved in her, that she is culpable in any of those things, that she hath denied, that she is content to be blamed in the rest of all the articles laid against her"
She denied absolutely that she had received any letters from Reginald (there is one he apparently wrote to her, but it was sent to Montague, so she may well not have received it). She also denied that she had heard of the destruction of other letters, or that she had heard her sons make any comments about the world being turned upside down. Nor had she ever heard Geoffrey or Montague say that the wanted to join Reginald, although she admitted she knew Reginald had escaped the assassins, at which "for motherly pietie...she [rejoiced]."
Her interrogators marvelled at her tenacity and probably believed her. The Earl of Southampton wrote to Cromwell:
"..[either] her sons have not made her privy ne participant of the bottom and pit [of] their stomachs, or else is she the [most] arrant traitoress that ever [lived]."

He also described her as "rather a strong and constant man, than a woman". A kind of compliment to Tudor minds!
Despite the best efforts of Geoffrey and Margaret to show that Montague was in no way involved in treason, on 2 nd December 1538 he was tried and convicted and on the 9th he was beheaded on Tower Hill. On 2nd January 1539, Geoffrey was excused the death penalty, but was to remain in the Tower. He again attempted suicide.
The question then became, what to do with Margaret? There was no evidence against her, but as a powerful magnate she controlled huge swathes of land on the south coast. With the very real fears of an invasion by France or the Empire, it would have been foolhardy to leave her free.
An Act of Attainder was passed against her in May 1539, confiscating her Earldom and demoting her once again to Lady Margaret Pole. Southampton and his wife were fed up with holding her in their home at Cowdray. Margaret clearly knew how to make herself unpleasant and difficult and Lady Southampton refused to be left alone with her "in nowise would she tarry behind me, the said Lady being in my house."
By 20 th November 1540 Margaret had been dispatched to the Tower, and she and Montague's young son were not included in the general pardon issued in 1540. Exeter's wife (who had more involvement in the matter than Margaret) had been pardoned and given an income, so it is not unreasonable to assume that part of the reason for Margaret's continued incarceration was personal dislike of Margaret, and the desire for revenge on Reginald Pole, by Henry.
Nevertheless, whilst in the Tower, Henry paid reasonable sums for Margaret's maintenance, and the wages of her waiting woman. Although, now elderly, Margaret was suffering from the cold and asked for warmer clothes. In March 1541, perhaps beginning to relent, the King ordered furred gowns and warm footwear for her – maybe Fortune's Wheel was moving in the right direction at last?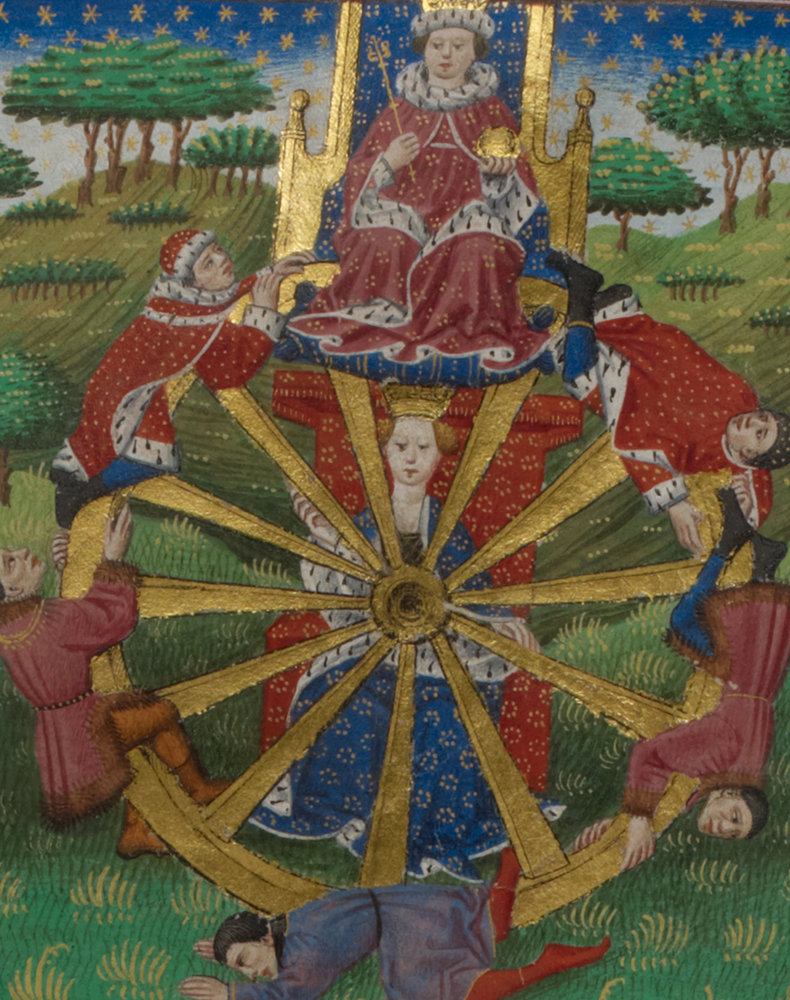 But no, Margaret's star was about to be extinguished once and for all. Whilst the warm clothes were being ordered, a new investigation into correspondence between Reginald and two of the King's Ambassadors, Sir John Wallop (a relative of the Poles) and Sir Thomas Wyatt began. Margaret's former steward was also questioned. Then came news of an uprising in the North.
On 27 th May, 1541, Margaret was beheaded in the Tower. Few details are known, but it appears to have been a spur of the moment decision. No scaffold had been built, and a small block was improvised. Margaret was informed that she was about to die on the very morning itself. She protested that:
"she found the thing very strange, not knowing of what crime she was accused, nor how she had been sentenced."
She must have been woken early, as at 7am she was led out onto Tower Green. As was customary, she was allowed to speak. She commended her soul to God and asked the bystanders to pray for the King, the Prince and for Princess Mary. Remembering the god-daughter who had been so dear to her, she sent her blessing, and asked Mary's in return. The guards were becoming fidgety, so she was told to "make haste and place her neck on the block".
The hastiness of the execution and the absence of the usual executioner, who had been sent north to deal with the rumoured uprising, meant that Margaret was left to suffer at the hands of
"A wretched and blundering youth…who…hacked her head and shoulders to pieces."
Her butchered remains were buried in the Chapel of St Peter ad Vincula in the Tower, where they were discovered in 1876.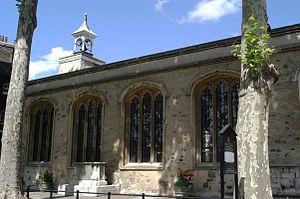 The reaction of Reginald to her death was to declare her a martyr who had died for her faith. This view was taken up by the Roman Catholic Church, and in 1886, Margaret was beatified, consequently being known in the Roman Catholic Calendar as the Blessed Margaret Pole, who had not hesitated to "lay down [her] life by the shedding of [her] blood …for the truth of the orthodox Faith".
This was her son's belief at the time, but, whilst one hesitates to question the received opinion of Margaret as dying for her faith, there is no evidence at all that she ever seriously challenged Henry VIII's religious changes. Unlike More or Fisher, she did not refuse to conform, and, although she may have made her private distaste more obvious than was wise, there was no occasion when she was faced with a stark choice of conformity or death.
The injustice of her death lies in the very fact that she was obviously innocent of all of the charges of treason that ensnared her sons.
---
This article is part of a Profile on Lady Margaret Pole available for Kindle, for purchase from Amazon US and Amazon UK.

Lady Margaret Plantagenet
Family Tree