Katherine Parr: Step-Mother
Definitely not a wicked step-mother
Chapter 3 : Family Troubles
Following Henry's death, Katherine's relationships with her royal step-children began to go awry. She and Seymour undoubtedly traded on young Edward's affection for them to manipulate him into supporting their marriage. Of course, no-one is perfect and it is understandable that Katherine would use every weapon she had to secure personal happiness following years of doing her duty, but it seems to have wounded Edward.
Mary, too, was hurt and offended by Katherine's hasty remarriage, feeling it showed a distinct lack of respect for her late father. So far as is known, the ladies did not meet again, although that they were reconciled is demonstrated by a letter written in summer of 1548 when Mary asks about Katherine's "great belly" and hopes to see her soon.
It is interesting to speculate on whether, had Katherine lived, she might have tempered Mary's zeal for reinstatement of the religious world of her childhood. It seems unlikely - many of Mary's friends and intimates were reformers but although they were never persecuted themselves, there is nothing to indicate they influenced her.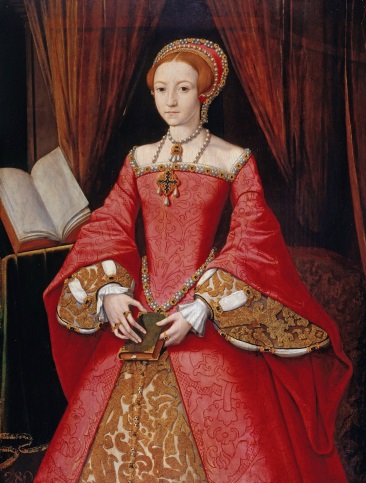 Katherine's relationship with Elizabeth, too, was irrevocably altered by her remarriage. Prior to Henry's death, Elizabeth spent time with her siblings at Hertford Castle or Hatfield; following it, she moved into the household of her step-mother. It is not clear why this was felt necessary: if the girl did not need supervision directly by her step-mother before Henry's death, then why after? One can only assume that it was the choice of both of them. For Elizabeth, the pleasure of a maternal relationship must have been great
And so, Elizabeth joined the Dowager Queen at Chelsea Manor, and then Hanworth, and all seemed set fair for a happy family life with her step-mother and new step-father, Sir Thomas Seymour, who secretly married the Dowager Queen in spring of 1547.
However, into this paradise crept the serpent of temptation. Seymour, who should have known better, took to flirting, and, in its kindest light, indulging in excessively physical horse-play with the young princess. She was obviously thrilled, and, not the first adolescent girl to have a crush on an older man, responded to the point where her governess, Katherine Ashley, felt obliged to remonstrate both with her and Seymour, and eventually, felt bound to inform the Queen.
Katherine must have been shattered. The match with Seymour had undoubtedly been based on sincere affection and the revelation that he was not only flirting behind her back, but that he was endangering the reputation of the King's sister – potentially a treasonable offence - must have hit her hard.
Initially, Katherine seems to have concluded that, by joining in the fun and games, it would take the heat and the sexual element out of the relationship between Seymour and Elizabeth, but it was too late. In due course, Katherine felt constrained to send Elizabeth to the house of Sir Anthony and Lady Denny, at Cheshunt, whilst she, herself, retired to Sudeley to await the birth of her child. Elizabeth, obviously shaken by events, quickly understood that her step-mother had done what was best, and wrote her a genuine letter of thanks.
---
During the last summer of her life, Katherine corresponded with both Mary and Elizabeth, and perhaps also with Edward, although no letters remain. Despite the upheavals caused by her final marriage, the step-daughters who had loved and respected her, both wished her well and spoke of their affection for her.
There is no record of the responses of her step-children to Katherine's death. One can imagine Edward, only eleven, bravely bearing the demise of his dear "mother", and eliminating all public show of feeling, as he was later to do for the executions of his uncles.
For Mary, who had lost so many people she had loved, it was the passing of a dear friend, but for Elizabeth it was the loss of the only maternal affection she had ever known (although her governess, Katherine Ashley was very dear to her as well).
There is no evidence as to Elizabeth's immediate reactions, but surely her own conduct and ultimate success as Queen must owe something to the example set by Katherine and is Katherine Parr's greatest legacy.
This article is part of a Profile on Katherine Parr available for Kindle, for purchase from Amazon US and Amazon UK.

Katherine Parr
Family Tree