Matthew Stuart: Life Story
Chapter 12 : Return to England
Elizabeth was not unsympathetic – she had released Lady Lennox from the Tower, and shown some personal kindness towards her grieving cousin, but she would not intervene in Scotland, and would merely await events. Mary was deposed, and Lennox' grandson, James, was crowned as king on 29th July 1567, with Moray appointed as regent. This was not universally welcomed, and two factions – the Queen's Party, which sought Mary's restoration, and the King's Party, emerged.
Lennox and his wife mourned their son deeply. Lennox was not permitted to take any part in the commission set up at York by Elizabeth to investigate the death of Darnley – she wanted the result to be inconclusive, so that she could retain Mary in England, without finding her guilty.
To partially assuage their grief, Lennox and his wife commissioned an extraordinary painting, by Livinus de Vogelaare, to memorialise him, and to remind their other son, Lord Charles Stuart, and James VI to avenge Darnley (picture below). It probably seemed to Lennox that there was little left for him to do except mourn his son, and hope to enjoy the company of his family, but events were to take another turn.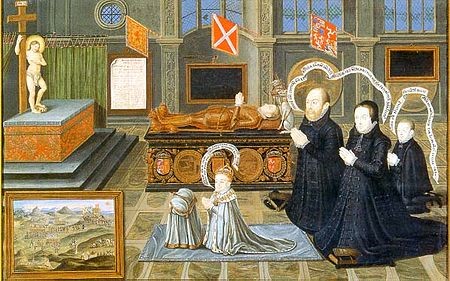 On 21st January 1570, Moray was assassinated, by Sir James Hamilton of Bothwellhaugh. Lady Lennox wrote to Cecil that her husband had taken the news very hard – he feared now that King James, his grandson, would be the next victim. Lady Lennox went on to say that her husband had no desire to 'bear rule' in Scotland, only to go there to protect the king by having 'possession of his person', and support whichever noblemen 'the Queen's Majesty here, and the State there' thought suitable to have the government of Scotland. If Elizabeth were to let him go to Scotland, she would soon be reassured as to his service to her.
If Elizabeth would not support him going to Scotland, could she agree that James should be brought to the Lennoxes in England for protection?
By the end of February 1570, Elizabeth was writing to her ambassador in Scotland that, if the majority of the pro-English King's Party wanted Lennox in Scotland, she would allow him to go, although only, at present as 'lieutenant'. By mid-April, Lennox was on his way – writing to Cecil about how little money he had, and how expensive it would be for him to act in Scotland. He told Cecil he would wait at Berwick for orders from Elizabeth – and hoped she would send him the wherewithal to 'do her good service' in Scotland. Enclosed with the letter to Cecil was one to Margaret.
Lennox remained at Berwick for some days, apparently very sick, although he told Cecil that he had made light of his illness in his letter to his wife. By 8th May, he was not only more-or-less recovered, but also fairly sure of a welcome in Edinburgh, and proposed to be there by the following Friday. The same day, a public proclamation was made in Edinburgh by the Privy Council. It denounced the house of Hamilton, leaders of the Queen's Party for its sinister designs against the state, and the king. Singled out for particular opprobrium was John Hamilton, Archbishop of St Andrew's, a Catholic, and half-brother to the former regent, the Duke of Châtelherault. The Archbishop took refuge in Dumbarton Castle.
Lennox was obviously nervous about what might be alleged against him in England in his absence, and wrote personally to Elizabeth, assuring her of his loyalty, and requesting her not to believe any slanders against him and Margaret – he was aware, he said, that they had enemies, although they had given 'small cause for….any evil-will'.
On 13th May, Lennox was received in Edinburgh. He had achieved his life's dream of ruling Scotland – although it seems unlikely that he believed the loss of his son and the separation from his wife and his younger son had been a price worth paying.
His first task, he wrote to Cecil, was to lead the King's Party against the Queen's Party, now concentrated around Glasgow. The next news was that the rebels had scattered at his army's approach – some to the Highlands, whilst others had barred themselves into his own castle of Dumbarton with the Archbishop. He asked Cecil to convey the news to Margaret, as he had no time to write – he was also to mention that he had seen the young king.
More requests for money were included in this, and all his regular letters to the English secretary of state, which detailed the various troop movements as the two parties struggled for supremacy. Lennox did not yet have official recognition from Scottish Parliament as regent. In part, recognition was delayed until Elizabeth confirmed that she would accept Lennox as regent. Elizabeth was still equivocating – she did not wish to give official sanction to the deposition of Mary.
Lennox and his adherents sent several letters to Elizabeth, pleading with her to give them unequivocal support. He also sent regular letters to Margaret, to keep her informed of affairs.

Matthew Stuart, 4th Earl of Lennox
Family Tree