Chapter 6 : Search for Reconciliation
On 1st November 1456 Jasper suffered the loss of his brother Edmund. It is not clear what Edmund died of - almost certainly natural causes. However it may be that Edmund's brief imprisonment by York's followers, which can hardly have improved his health, led to Jasper becoming more firmly attached to the Lancastrian cause, and sowed the seeds of rivalry with Herbert and Vaughan.
Jasper now took over Edmund's responsibilities in South Wales, and also complete responsibility for his widowed countess, Margaret, who was expecting a child. Margaret moved to Jasper's own castle of Pembroke to await the birth, which took place on 28 th January 1457. The boy was named Henry. Because Edmund had no adult heir, his lands reverted to the Crown for the period of the young Henry Tudor's minority, with an annual dower granted to Lady Margaret.
Another Great Council was held in Coventry about a month after Henry was born, which Jasper attended. Following the Great Council, the court moved to Hereford. This was more or less in the heart of York's Mortimer lands, which comprised great swathes of the Welsh Marches and was perhaps a symbolic act to show the Queen's dominance.
Meanwhile Jasper and his widowed sister-in-law were visiting Humphrey, Duke of Buckingham, in order to arrange a new marriage for Margaret with the Duke's second son, Sir Henry Stafford. Whilst Margaret's marriage would reduce the income that Jasper could take from her estates (she was still a minor) it would give her and her son an additional measure of protection. It was not unknown for heiresses to be abducted and forcibly married, so it was far preferable for Margaret to ally with fellow Lancastrians of high birth.
Jasper's exact whereabouts over the next few months are unknown. He next appears at the famous Loveday event of 25 th March 1458. The Loveday was a mediaeval practice whereby warring parties were publicly reconciled. Henry VI no doubt hoped for great things from the public reconciliation of Queen Marguerite with York, but in this as in much else, the King was naive. Jasper probably took part in the ceremony, but there are no specific accounts of his presence.
Lovedays were all very well but practical measures for maintaining defences were required. During 1457 - 1458 Jasper was closely involved with the re-fortification of the town of Tenby, on the coast of south-west Wales. Jasper shared the cost of rebuilding the walls and repairing the moat with the townspeople. Tenby, although almost as far from the seat of English government as anywhere in the kingdom of England and Wales, was well-positioned as a port from which ships could ply between Scotland, Ireland, France, Brittany, Cornwall and Wales. He also improved the fortifications at Pembroke.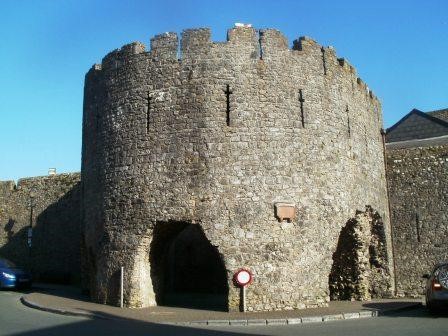 On 8th January 1458, five days after the marriage of his mother to Sir Henry Stafford, the wardship of Henry Tudor, Earl of Richmond, was granted jointly to Jasper and John Talbot, Earl of Shrewsbury. This, together with the reversion of those of Edmund's lands which had been held in survivorship by the pair, gave Jasper an income of around £1,500 - in a period where only the richest nobles had incomes greater than £1,000 and a gentleman could survive comfortably on £20 per annum. The very richest nobles of all, such as the Dukes of Buckingham and York, had estates and income to the value of around £3,500 per annum. Of course, much of this income was on paper and not always easy to collect. To counterbalance the income, Jasper had significant expenses in the maintenance and upkeep of his castles.

Sir Jasper Tudor
Family Tree