Chapter 20 : Reward & Retirement
Henry's strategy was one of reconciliation. He had never lived in England and the only nobles he knew, other than the Herberts and the Duke of Northumberland, were those who had joined him in Brittany. He therefore did not have the personal likes and dislikes that had so influenced the Wars of the Roses. Whilst he was eager to reward his supporters appropriately, he did not wish to indulge in wholesale revenge against Yorkists, nor to create new overmighty subjects such as York and Warwick had been. General pardons were issued and a policy of forgive and forget was the order of the day.
Jasper was by far the most generously rewarded of Henry supporters. On 20th October, having already been reconfirmed as Earl of Pembroke, he was created Duke of Bedford. The only other dukedoms that Henry was to create were for his sons. The choice of the title of Bedford was probably intended as a reference to Henry V's faithful brother, John of Lancaster, Duke of Bedford, who had valiantly tried to maintain English rule in France during the youth of Henry VI. It was undoubtedly intended as a mark of Jasper's proximity to the House of Lancaster.
The ceremony took place at Westminster Palace.The new Duke was led to the throne to kneel in front of the King by the Duke of Suffolk, brother-in-law to Edward IV and Richard III, and his son, John de la Pole, Earl of Lincoln. In a strange irony, the Duke of Suffolk had once been the infant husband of Henry's mother, Margaret Beaufort. Jasper also received the position of Chief Justice of South Wales and the Marcher Lordship of South Glamorgan, previously in the hands of the Earl of Warwick.
In a further display of Henry's affection for his uncle, Jasper was granted the honour of carrying the King's Crown in the coronation procession and was later appointed as Lord High Steward at the coronation of Elizabeth of York
Jasper not only received lands and titles, including Sudeley Castle, he also, for the first time in his life was given a wife. It is not clear why he had not married during the early 1450s at the same time as his brother Edmund. To remain unmarried at the age of around 54, Jasper's current age, was extremely unusual. There are later accounts of a couple of illegitimate children but there were no rumours of any at the time nor any evidence from his accounts that he had any children.
The wife selected for the new Duke was Katherine Woodville, younger sister of Queen Elizabeth Woodville, and the widow of Henry, 2nd Duke of Buckingham. It was notorious that, despite having been married in their youth, Buckingham and Katherine had lived on very bad terms – apparently he resented being married to somebody he considered unworthy of his Royal blood. Despite this, they had managed to produce four children, including Edward, now 3rd Duke (later executed by Henry VIII).
The marriage of Jasper and Katherine was one of the series of marriages that was intended to bring the warring factions of Lancaster and York together. Henry himself married Elizabeth of York as promised, his mother's nephew, Sir Richard Pole, married Margaret of Clarence, and Cicely of York married Lord Welles, who was Margaret Beaufort's stepbrother.
The marriage to Katherine enabled Henry VII to improve Jasper's lot financially without having to alienate Crown lands. Katherine was granted a very extensive dower from Buckingham estates comprising some 35 lordships across the whole of South Wales and in the south and midlands of England although the wardship of the young Duke was given to Lady Margaret Beaufort. Parliament also confirmed his title to everything that had been granted to Jasper by Henry VI, although, in practical terms, not all of the lands could be recovered. Pembroke Castle, however, was returned to Jasper, who made some improvements there, including a more modern lodging for domestic use. Katherine and Jasper had no children.
Jasper was at the heart of Henry's government for the first few years, named as Privy Councillor, Lieutenant of Calais and titular Deputy of Ireland (a role held in reality by the Earl of Kildare). Rather grandly for a man who had spent much of his life fleeing pursuing armies, he was announced by heralds as 'the high and might prince, Jasper, brother and uncle of kings, Duke of Bedford and Earl of Pembroke'.
In 1486 - 87, Jasper performed further military duties. A remnant of Yorkist supporters were resisting Henry's authority, under the command of Richard III's friend, Francis, Lord Lovell. Jasper travelled north, armed not only with men, but also with pardons for any rebels who would submit to the King, and, handily, a bull of excommunication from the Pope for any who persisted in rebellion. The tactics were effective and the rebellion faded away. Jasper was then called to Wales, where, together with Sir Rhys ap Thomas, he suppressed rebellion by Thomas Vaughan, son of the man Jasper had executed for killing his own father. No further reprisals were taken, however, and Vaughan was pardoned.
A more serious rebellion threatened, in the shape of a plot to put forward a pretender, Lambert Simnel, who had been crowned in Dublin as Edward VI. Presumably the Yorkists intended to replace him with the Earl of Lincoln when they had defeated Henry. Jasper, as Earl Marshal, had the job of gathering men the King's army. Battle was finally joined at Stoke in Staffordshire with Jasper commanding the centre section, the King the rear section and Oxford and Rhys ap Thomas in the vanguard. Thus Jasper was one of the few men who was probably present both at the first battle of the Wars of the Roses, at St Albans, and also at the last. The royal army proved victorious.
But Jaspar's military career was not yet finished. In 1492, Henry invaded France, partly to protect the Duchy of Brittany, now in the hands of François' young daughter, Anne, who was being pressed to marry Charles VIII. Jasper and Oxford were again his chief commanders. Henry is not generally thought of as a military king but he was victorious in the two battles in which he fought – Bosworth and Stoke, and gave every indication that he would have pursued a campaign in France thoroughly and diligently. Hostilities opened with the English army besieging Boulogne. Charles VIII, keen to pursue his far more exciting claims in Italy than to get involved in a muddy campaign in northern France copied Louis XI's trick of buying off the English king. Henry departed with a pension of 50,000 crowns and the promise that the rebel Perkin Warbeck could no longer receive succour from the French.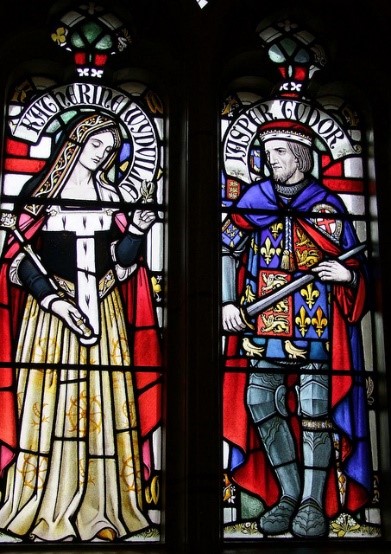 Retirement
From around the end of 1480's, Jasper seemed to spend less time at court but he was appointed as deputy to Henry's new son, Arthur Prince of Wales, in 1491 and he and Arthur had a joint commission in 1493 to execute justice throughout Wales and the marches.
In December 1495 Jasper made his will. The vast majority of his lands were left to his nephew, excepting those which had been entailed on his great-nephew, Henry, Duke of York (later Henry VIII). In common with the usual practice, there was significant sums bequeathed for prayers for his own soul, those of his parents and for his brother Edmund – dead for forty years, but obviously not forgotten. He was attended on his deathbed on 21 December by his wife, Katherine, Henry VII, Margaret Beaufort, and possibly Elizabeth of York.
Perhaps surprisingly, Jasper did not choose to be buried either in Wales with his brother Edmund, nor in Hereford with his father, but at Keynsham Abbey in Somerset which he had acquired only the year before.
Jasper's courage, self-sacrifice and devotion to his half-brother, his sisters-in-law, and his nephews is one of the outstanding examples of loyalty in an age when many changed coats more than once.
---
This article is part of a Profile on Jasper Tudor available in paperback and kindle format from Amazon.
---
Listen to our interview with Renaissance English History Podcast on Jasper Tudor here.
---

Sir Jasper Tudor
Family Tree