Chapter 19 : Planning Invasion
Charles VIII and Anne of Beaujeu welcomed their cousins with open arms. They were fed, housed, given money to pay their men and given permission to raise troops to effect an invasion of England. Soon, they were joined by Oxford and Beaumont, who had escaped from imprisonment, largely by persuading their gaoler, Sir James Blount to join Henry's growing band of supporters.
It became apparent to Richard III that he would have to fight for his Crown and soon - Henry could not afford to delay. The ever-changing politics of France and Brittany meant that at any time he might be handed over to Richard in return for support. Nevertheless prospects for the little Lancastrian court-in-exile looked good as increasing numbers of disaffected Yorkists were either leaving England or sending messages of support. According to Henry's first biographer, Polydor Vergil, one of these messages came from Rhys ap Thomas in South Wales. Following the death of Herbert, Rhys at Thomas was one of the most powerful influences in south-west and west Wales. Without his support it would be difficult for Henry to make a landing in that locality.
On 4th May 1485 the French Parliament agreed to lend 40,000 livres tournois for an invasion fleet. Uncle and nephew set up their headquarters in Rouen and wrote copious letters to England requesting support, including to William Herbert's son, another William, promising that should Henry be unable to marry one of Edward IV's daughters, he would marry William's sister, Katherine. William and Katherine Herbert were both well known to Henry as he had spent his childhood in their home. The third sibling, Maud, who had once been suggested as a wife for Henry by her father, was now married to Henry Percy, Earl of Northumberland. Northumberland, too, had once been a ward of Herberts, at Raglan with Henry Tudor. These boyhood good relationship may have influenced first Herbert and then Northumberland's actions at the Battle of Bosworth.
From this point forward Jasper is overshadowed by his nephew. Whilst it is apparent from the poetry and prophesyings of the Welsh bards of the period, that Jasper was in communication with men in Wales and that the Tudors were assured of a warm welcome, the language of these effusions is not sufficiently precise to give a detailed history of events.
Henry, accompanied by Jasper, landed near Milford Haven on 7th August sporting the Welsh Dragon of the mythical ancient British king, Cadwallader, as well as the red cross of St George on his banners. The Tudor forces quickly moved through south Wales, keeping to the west coast and headed for Aberystwyth. The Herberts did nothing to prevent their advance but neither did Rhys Thomas immediately fulfil any promise that might have been made to support Henry. Jasper of course, may well have been nervous about the Herberts' intentions, having beheaded their kinsman, Roger Vaughan.
As Henry and Jasper travelled north they heard that Rhys Thomas and Sir Walter Herbert were marching parallel to them up the valley of the Teifi. The Tudors cannot have known whether these men were intending to join their ranks or cut them off at the knees. Fortunately, it was the former. With these increased numbers, Henry's march continued through Wales and he crossed into England at Shrewsbury, meeting Richard III at the Battle of Bosworth on 22 August 1485.
Curiously, there is no definite record of Jasper's presence at Bosworth but it seems highly likely that he was present and he is referred to in some later poetry as positioned, together with Henry, in the centre section of the Tudor force. The man in overall charge of military arrangements was the Earl of Oxford.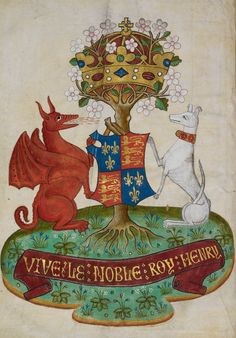 Sir Jasper Tudor
Family Tree