The Influence of Henry VIII's Wives on Tudor Fashion Ideals
Chapter 3 : Anne Boleyn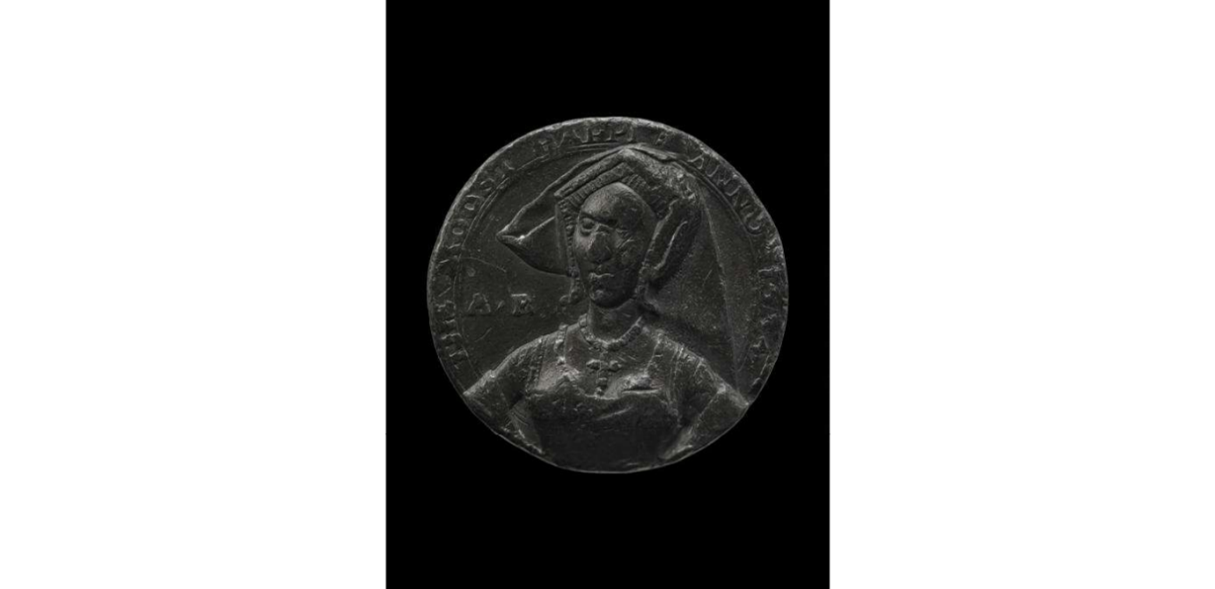 Anne Boleyn arrived home in England in 1522, having finished her education at the court of Queen Claude of France. Immediately, Anne was seen as one of the most elegant and alluring maids of honour in Queen Katharine's household, and it was not long before she caught the eye of King Henry.
Although undoubtedly poised and possessing a keen eye for fashion, Anne's appearance has been debated for centuries. Because Henry VIII destroyed any existing images after her execution in 1536, there are very few contemporary images to determine what she looked like. Even during Anne's lifetime, people couldn't seem to agree on if she was beautiful or not.
Anne was not conventionally beautiful according to the standards of the time. In her book Ladies In Waiting, Anne Somerset writes, "The appeal of the woman who thus ensnared the King seems to have depended less on outright beauty…than on a natural grace and femininity." John Barlow described Anne as "very eloquent and gracious and reasonably good looking," but he added that Bessie Blount was "more beautiful." Venetian diarist Sanuto described her in 1532 as being "not one of the handsomest women in the world; she is of middling stature, swarthy complexion, long neck, wide mouth…eyes which are black and beautiful, hair black, wonderful long hair."
Some contemporaries claim Anne had physical deformities. According to Somerset, "the ladies of the court soon took to copying the hanging sleeves affected by her to conceal the incipient sixth finger on her left hand." Historian Claire Ridgway argues that it is highly unlikely these claims are true. In Tudor times, this would have been evidence of witchcraft, which Henry would have abhorred in a lover, much less a queen. To Henry, such physical deformity could have disabled Anne from producing a male heir. Norton expands on this, saying that the original claims of birthmarks and extra fingers came from Nicholas Sander, who was trying to slander Anne. He also claimed that she was Henry VIII's daughter from an affair with Elizabeth Boleyn. Norton does add that during the reign of Elizabeth I, George Wyatt, the grandson of Thomas Wyatt, interviewed Anne's contemporaries and wrote her biography. In it, contemporary sources assert Anne did have the start of an extra nail on one of her fingers. Norton feels Wyatt's claims may be credible.
By 1526, Henry was head over heels in love with Anne. The first sign to courtiers that she was the king's new favourite was that Anne began to dress in expensive fabrics. In June 1527, when Henry told Queen Katharine he doubted the validity of their marriage, her first response was to begin to dress more richly, and according to Lynn "she increased her expenditure on wardrobe by fifty per cent that year."
The only certain contemporary likeness of Anne Boleyn is her 1534 coronation medal. For her coronation in 1533, Anne had dressed in French fashions, and she was six months pregnant with Elizabeth at the time. Chapuys reported that Anne and her father Thomas Boleyn had had a disagreement about her gown. She had added an extra panel of fabric, which he wanted removed in order to highlight her pregnancy. The festivities were beautiful, ornate and expensive. But according to Stow's Annals, the people said Anne's gown was, "covered with tongues pierced with nails, to show the treatment which those who speak against her might expect." On her coronation medal, Anne is dressed in English fashions, including a gabled hood. It is likely that the aim of the medal was to present her as an English woman with English taste.
Many historians believe a preparatory drawing by Holbein of a woman in a nightgown is Anne Boleyn. Lynn writes that Henry gave Anne Boleyn a black satin nightgown during their courtship, and the Holbein sketch is believed to be of her wearing it. "Under the nightgown she wears a typical high-collared linen smock, with an embroidered collar…in this image, Anne also wears a linen cap, or coif, wrapped around with a frontlet." The woman in the drawing is certainly not beautiful according to contemporary standards. But Henry VIII was truly infatuated, and during their courtship he wrote to her, "wishing myself (especially of an evening) in my sweetheart's arms, whose pretty duckys I trust shortly to kiss.'
Anne was graceful and fashionable to the very end. For her execution "she wore a mantle of ermine over a loose gown of dark grey damask trimmed with fur and a crimson petticoat. Under her headdress she had a white linen coif covering her hair which she revealed on removing her headdress just before being beheaded." Most historians agree that the adultery and treason charges against Anne were unfounded. But according to Lynn, a lesser-known charge against Anne was that she had "made fun of Henry's clothes."