Howard Family
Sola Virtus Invicta (Only Virtue Unconquered)
Chapter 5 : Diligent Service
The 2 nd Duke continued to be prominent at Court despite his increasing age (he was around 70 at the time of Flodden). His second wife, Agnes Tilney, as well as his daughter-in-law, the Countess of Surrey, and his daughter Anne, Countess of Oxford, were all in service to Queen Katharine. In 1520, the family was well represented at the Field of Cloth of Gold in the Queen's train.
Also present, it seems, was his grand-daughter, Mary Boleyn, in the French contingent as a maid-of-honour to Queen Claude.Mary, who had apparently already had an affair with King Francis, caught King Henry's eye and began an affair with him sometime in the early 1520's after her return from France.
The Earl of Surrey and Elizabeth Stafford were not at the Field of Cloth of Gold, having been posted to Ireland in 1520, following news that the Lord Deputy, Gerald, 9 th Earl of Kildare was paying more attention to his own interests, than those of the King. Surrey set up in Dublin Castle, in vice-regal state to try to improve the governance of the country. This soon proved a thankless task.
Plague and poverty were all around and the Earl begged to be recalled in 1521. However, all accounts suggest that Surrey was an effective Deputy. He maintained good relations with the Anglo Irish nobles, but, unusually, was also praised by the native Irish population as "careful for the poor" and "never malicious to any". Even Wolsey, his arch-rival for the King's favour, praised him. Despite continued pleas, and severe epidemics causing Elizabeth to suffer great anxiety over her children's safety, they were not recalled to London until 1523.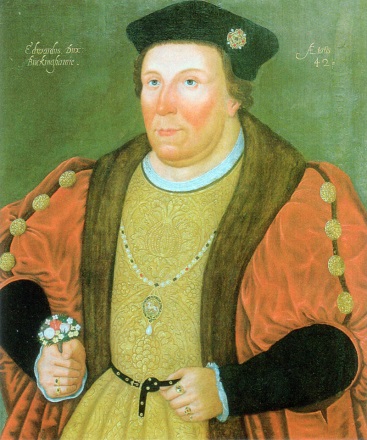 In their absence, Surrey's father-in-law, the Duke of Buckingham finally aggravated Henry so much that, on very flimsy evidence, he was accused of treason and executed, with Norfolk presiding over the trial, in his role of Lord Steward. Apparently, tears streamed down Norfolk's face as he pronounced the death sentence.
In 1524, aged around eighty, the 2 nd Duke finally gave up the ghost, a last survivor of a bygone age: lucky, perhaps to die before the whirlwind that was his granddaughter, Anne Boleyn, was unleashed.
Surrey, now 3rd Duke of Norfolk, and Elizabeth, now Duchess, continued in their respective offices of Lord Treasurer, Earl Marshal and great Lady of the Queen's Household.However, court life was soon to be turned upside down.