European Alliances
Main Players in the Early Years
Chapter 3 : Henry VII's Alliances
Further north, and, in the 1490s something of an also-ran, was Henry VII (1457 – 1509), King of England. Against the odds, Henry Tudor had emerged from exile in Brittany to take up the mantle of the House of Lancaster and win the throne from the Yorkist King Richard III at Bosworth.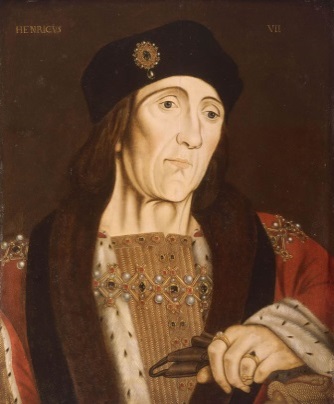 Having won the throne of England in battle, Henry seemed to feel that he had nothing to prove by way of further wars, an idea that was considered rather un-chivalric at that time, although eminently sensible to modern ears. He pursued a policy of peace, wherever possible, although was able and prepared to back it up with military action, if necessary.
Brittany & France
Henry's first important alliance was with Brittany. The Treaty of Redon was an attempt to protect Brittany from the depredations of France, and in fulfilment of it, Henry sent troops to try to defend Duchess Anne in 1492 although to little avail.
In December 1491, Brittany surrendered to France. Henry continued to make war-like noises so the French, their objective in Brittany obtained, and now more concerned with Italy, paid him to go away. The Treaty of Etaples in 1492 accepted the loss of Brittany and agreed a pension of 50,000 French Ecus to be paid from France to the English King, as well as a promise by France to stop supporting the pretender, Perkin Warbeck.
The Emperor and King Ferdinand, in their efforts to keep the French contained, hoped to involve Henry VII in their schemes. He was determined not to be drawn in and struck out the clauses in the Treaty of Medina del Campo aimed at damaging Anglo - French trade. Henry VII's position on territorial acquisition was unusual. His predecessors, and his successor, were all eager to either conquer France entirely, or at least to recover the territories of Guyenne, the last remnants of the Angevin Empire. England controlled Calais and its Pale, which was extremely useful as a bridgehead into France, and as location from which to control trade passing along the English Channel. This was enough for Henry VII.
Spain
The second alliance was with the Catholic Kings. The Treaty of Medina del Campo (1489) was to be underpinned, in traditional fashion, by a marriage between their daughter, Katharine, and Henry VII's eldest son and heir, Arthur. The marriage between Arthur and Katharine was celebrated in 1501.
Scotland
The third treaty was the Treaty of Perpetual Peace, signed between Henry VII and James IV (1473 – 1513) of Scotland in 1501. An earlier treaty had been signed in 1497, the Treaty of Ayton, which had brought about peace following James' support for Perkin Warbeck, a pretender to Henry's throne.
Burgundy & the Empire
The fourth important alliance that Henry made was the agreement in 1507 that his younger daughter, Mary, would marry Charles of Castile, grandson and heir of the Spanish monarchs, already Duke of Burgundy after the early death of his father, Philip the Fair, and likely to be elected Holy Roman Emperor on the death of his grandfather, Maximilian.