Chapter 3 : Penelope's Parts
Penelope Devereux took part in at least two masques, the first being 'The Vision of the Twelve Goddesses', by Samuel Daniel produced for Christmas 1604. It was performed on Sunday, 8th January, at Hampton Court.
The masque opened with Night requesting her son Somnus to send a dream to the courtiers. They were to see a Temple of Peace with the priestess, Sybil. Iris, the god's messenger, then appeared to Sybil, telling her that twelve goddesses were about to appear. The ladies came in threes, preceded by the Three Graces. The first wave of goddesses was Queen Anne as Pallas, the Countess of Suffolk as Juno, and Penelope as Venus.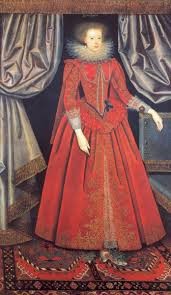 The goddesses danced 'with majestie and arte', forming squares, triangles and circles. They then selected gentlemen from the audience to dance with, before retiring back to the heavens.
The second masque in which Penelope took part was the 'Masque of Blackness', commissioned by Queen Anne for Twelfth Night 1605. Her instruction to Ben Jonson, was that she wished her ladies and herself to be disguised as "blackamoors". Their costumes were of blue, silver and pearl, and they were made up with black face-paint.
The scene opens with the Queen and her ladies sitting in a sea-shell, representing the water goddesses who are the daughters of the god Niger, and grand-daughters of Oceanus. Oceanus and Niger discuss the fact that the goddesses, who are supremely beautiful, have been upset to learn that the northern poets prefer fair-skinned beauties.
Niger has tried to reassure them, pointing out (with a level of cultural sensitivity that perhaps may surprise us) that they are perfect as they are, and should not seek to bind themselves to European ideas of beauty. Nevertheless, the water-goddesses resolve to ask the moon-goddess Aethiopia for help. She recommends moving to less sunny climes, suggesting places ending in –atania.The water goddesses have tried moving to as Acquitania, Lusitania and Mauretania, but to no avail. (I think we can see where this is going…Ed)
At this point the water-goddesses dance in pairs.
Niger begs Aethiopia to help again, as his daughters have been such faithful worshippers. She appears and tells them to visit Britannia, where the wisdom of the sun-lit King represents such a light of Reason, that it will whiten even a black-skinned Aethiopian.The water-goddesses are to travel to Britannia, and the light of his countenance will transform them.More practically, they are to bathe once a month in sea-dew, and in a year, when they return, they will be white.
The water-goddesses then dance with the audience.
Penelope's role was Ocyte, the water-goddess representing swiftness, and her partner was Katherine Knyvett, the Countess of Suffolk, whose first husband had been Lord Rich's elder brother.
Penelope's inclusion in these extravagant events is a testament to her grace, skill in dance, and beauty, as well as to her warm relationship with the Queen.