Chapter 2 : Masques
Queen Anne, like Penelope and Lady Bedford, was an avid patron of poetry and theatrical works. The Queen commissioned works, and all three ladies were dedicatees of poetry and prose. In particular, Anne was a patron of the masque – a stylised hybrid of play, ballet, musical interlude and poetry.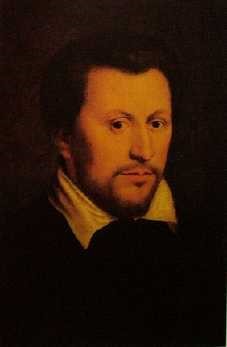 The playwright, Ben Jonson, wrote his first work for the Queen in June 1603, when he created penned a welcome for her and Prince Henry, to be recited at the arrival at Sir Robert Spencer's home at Althorp, Northamptonshire (Sir Robert was an ancestor of the late Diana, Princess of Wales).
Thereafter, with the exception of 1604, Jonson wrote all of the Christmas masques for the court, and worked closely with the architect, Inigo Jones as set designer.
The budget for clothes, for dancing masters, for instruments and musicians was enormous. The first two masques – The Twelve Goddesses of 1604 and the Masque of Blackness of 1605 – cost some £2,000 each. The scenery was complex and elaborate.
Whilst the singing and recitation were generally performed by professional actors, the dancing was undertaken by members of the Court, from the Queen downward. To be asked to take part was a great honour, as the standard of dancing and acting was high – these were not family Christmas games, with everyone laughing if a player tripped or stood on his partner's toe. The masques were intended to demonstrate the wealth and power of the two crowns of England and Scotland. Observers from foreign courts were impressed by the extravagance of the spectacles the Queen arranged
'in everyone's opinion no other Court could have displayed such pomp and riches'
reported the Venetian Ambassador about the Christmas masque of 1604.
The evening usually opened with the 'antemasque' which was intended to look like an amateur romp, with bawdy dancing and low humour – perhaps rather in the style of the play in A Midsummer Night's Dream. Then the masque proper would begin, with formal dancing, created from intricate choreography which had been practised for weeks, accompanied by viols or lutes. Finally, the masque participants would dance familiar court dances, such as the galliard, with members of the audience.