Anne of Denmark: Patron of Artists
A number of artists are associated with the Jacobean court, most of them related or connected by marriage. Anne patronised all of them, and there are numerous paintings of Anne, her family and courtiers.
When the Queen first arrived in London, the Serjeant Painter (the monarch's official painter) was Leonard Fryer, who had been appointed in 1596. There do not appear to be any paintings by Fryer of the Jacobean court, and he may have been a silversmith, as Serjeants Painter were responsible for a wide range of decorative work, not just portraiture. In particular, they painted scenery for masques, decorated interiors, and even some of the King's ships. In 1603, John de Critz was appointed as joint-Serjeant.
De Critz was a native of Antwerp, a member of a family which had left the city in the face of religious persecution and taken refuge in London. De Critz probably studied under Lucas de Heere, another Netherlandish exile. By the 1580s, de Critz was working in court circles, painting at least one portrait of Sir Francis Walsingham, currently in the National Gallery and probably one each of Sir Robert Cecil and Katherine Howard (nee Carey), Countess of Nottingham, before the death of Elizabeth I.
De Critz' first portrait of Anne was probably that of 1605, now in the National Maritime Museum. Following this, he painted several portraits of her and James as well as of Thomas Sackville, Earl of Dorset. The number of portraits of Dorset suggest that de Critz was retained by him in some formal capacity.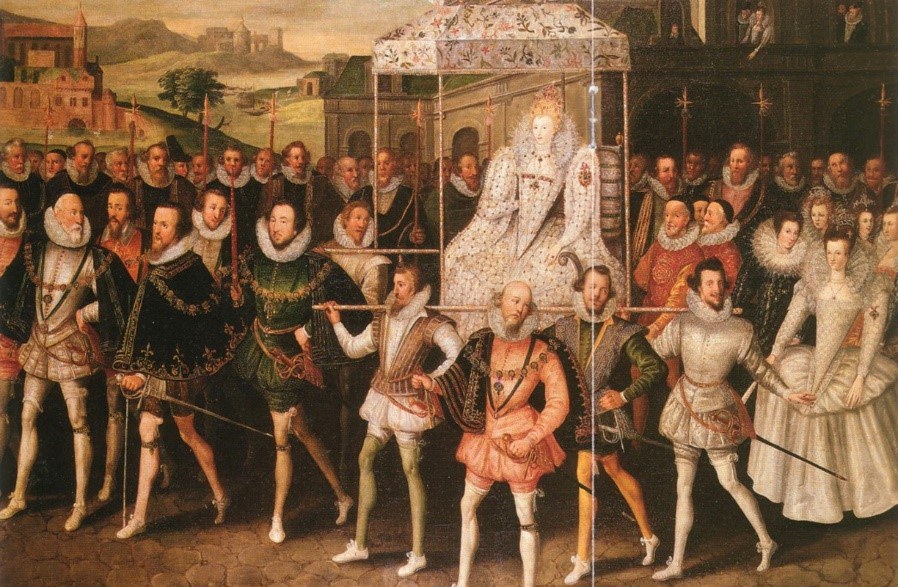 In either 1607 [1] or 1610 (NPG), de Critz was joined as Serjeant Painter by Robert Peake the Elder. Probably Peake's most famous work is that of Elizabeth I in procession (pictured). Peake had been appointed as painter to Prince Henry Frederick in 1604 and painted both the prince and his sister, Princess Elizabeth (later Countess Palatine and Queen of Bohemia). Both of these are in the National Portrait Gallery. Another of his works is the 1603 painting of Prince Henry hunting (pictured) – a passion the prince shared with his parents. He is accompanied by John Harington, whose aunt, the Countess of Bedford, was Anne's chief Lady-in-Waiting, and whose grandmother had charge of Princess Elizabeth. Both boys died young – the Prince in 1612, aged eighteen, and John, now Lord Harington of Exton, two years later, aged 22.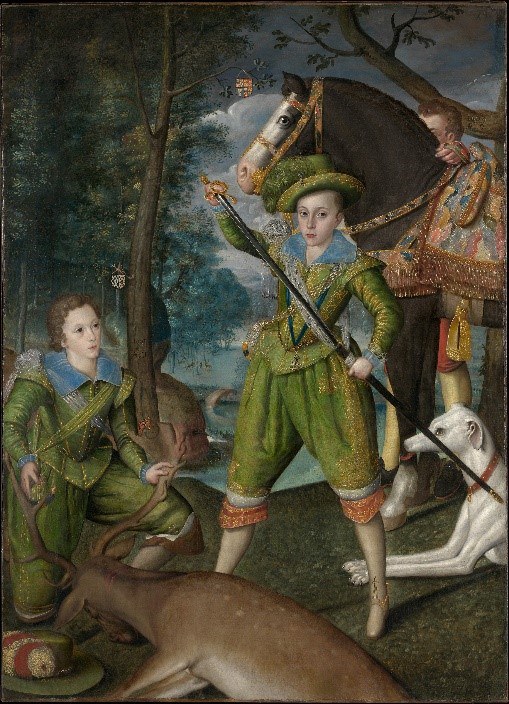 The other great painter of the time was Marcus Gheeraerts. Another Netherlandish refugee, his stepmother was Susanna de Critz, sister of John, and his wife was another sister, Magdalena. His style is rather more allegorical and stylised than that of de Critz, or Peake – in particular, his portrait of Sir Thomas Lee (executed for his part in the Essex Rebellion), showing him bare-legged is unusual (pictured). Gheerhaerts was an innovator, in that he painted on canvas, rather than wood, allowing larger scale portraiture to be done. His portrait of Anne (pictured) is at Woburn Abbey.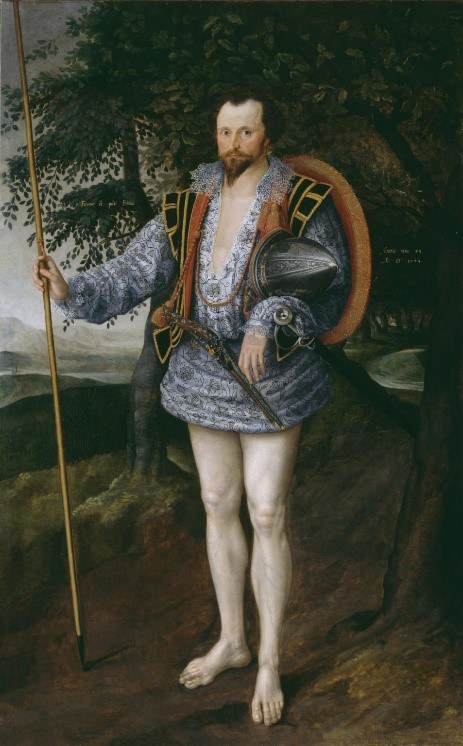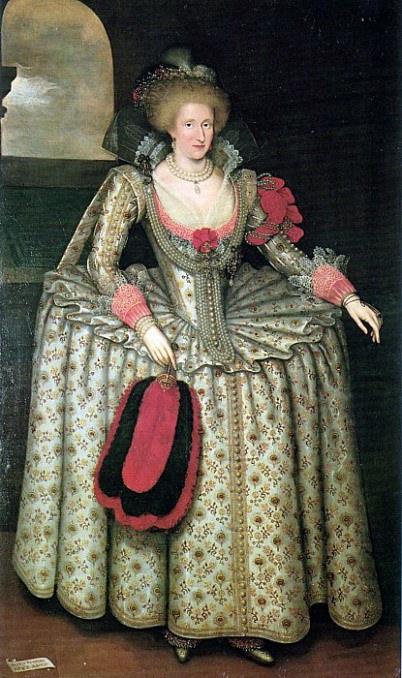 Gheeraerts also painted a number of the 'Pregnancy Portraits' that were fashionable in the Elizabethan period. It has been suggested that the pregnancy portrait is an indication that the sitter is a radical Protestant, or a Puritan. Protestantism favoured marriage and procreation for all women over the more ambivalent Catholic position, which saw a place for unmarried women (all virgins, of course!) as nuns.
Anne continued to employ Gheeraerts, who had an official position as the Queen's Painter, but by the late 1610s he was going out of fashion, to be replaced by Paul van Sumer, who painted a number of courtiers, including Lady Anne Clifford. His portrait of Anne of Denmark shows her in hunting attire, with her dogs, and is in the Royal Collection. It was commissioned in around 1617, and originally hung at Oatlands Palace, before being moved to Whitehall.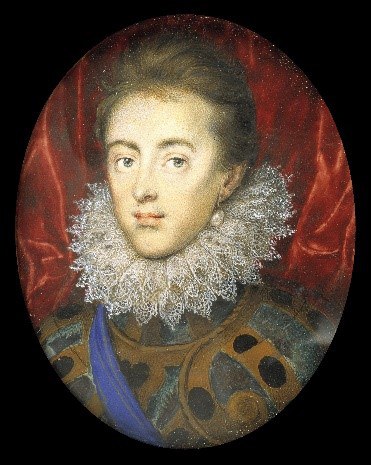 Gheeraert's half-sister, Sarah, was married to the miniaturist Sir Isaac Oliver, whom Anne also employed. One of his finest pictures is of Prince Charles (pictured). Prince Charles inherited his mother's taste for art, and went on to build up one of the finest collections in Europe, much of which was dispersed or destroyed during the Commonwealth period.
---
[1] The Serjeant-Painters. (1944). The Burlington Magazine for Connoisseurs, 84(493), 81-82. Retrieved from http://www.jstor.org/stable/868751