Charles Brandon: Close and Beloved Friend of Henry VIII
by Sarah Bryson
It is no secret that Charles Brandon, Duke of Suffolk was a close and beloved friend of Henry VIII. While Brandon did not grow up in the young Henry Tudor's household as legend states, the pair did come to know one another in their younger years.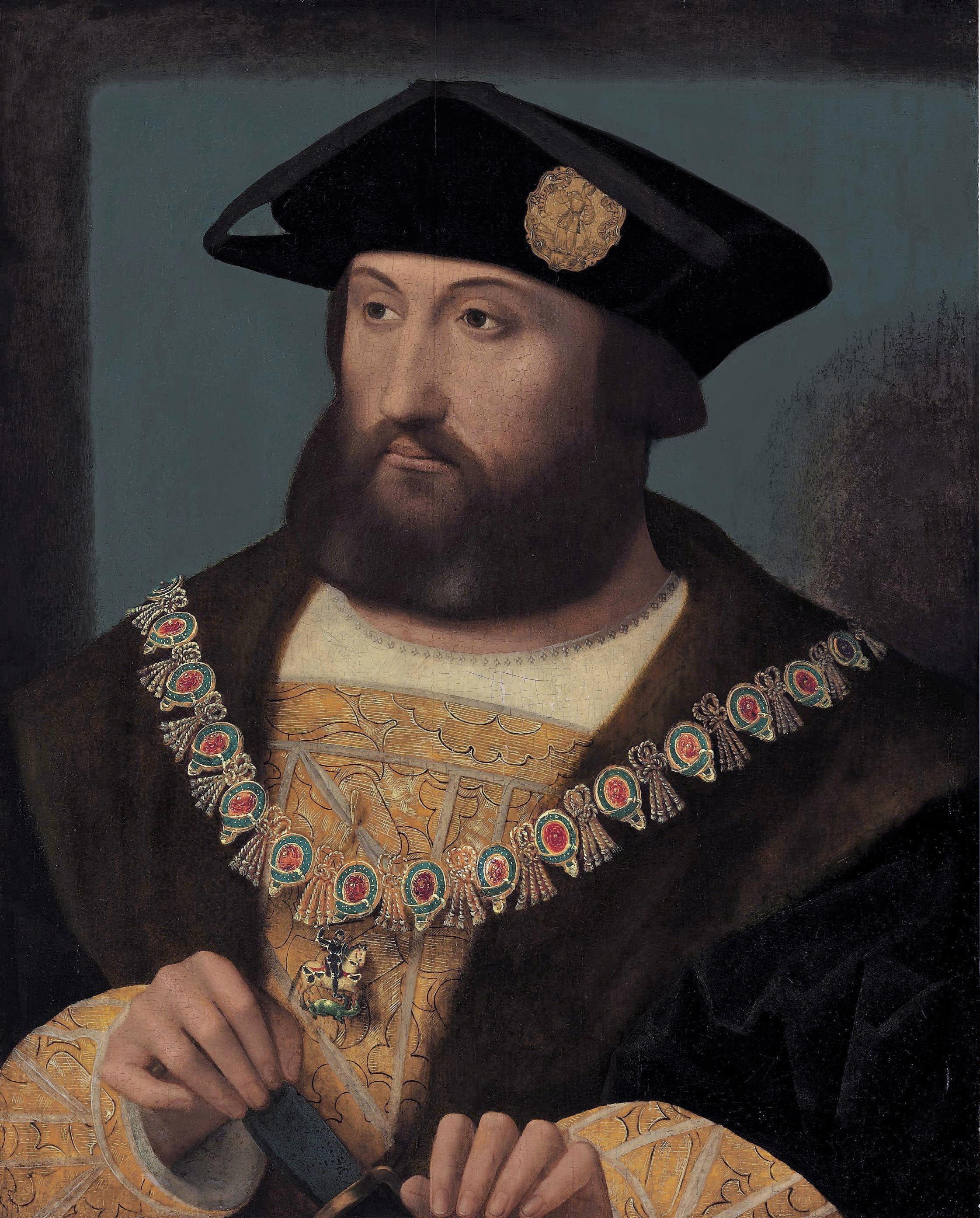 Seven years older than the future King, Brandon was athletic, tall, eager to prosper at court and dashingly handsome. With the death of Henry's older brother Arthur in 1502, Henry was moved within close proximity to his father, King Henry VII, and kept under close watch as he was now the sole heir to the throne of England. Without having a great deal of freedom it is quite possible that Henry lived out many of his fantasies and desires through Charles Brandon. He was able to watch the strong, fit man joust and participate at the lists while Henry was forbidden to participate due to possible injury. He was also able to gossip about romantic interests and women with Brandon as Brandon was becoming quite a ladies' man at court!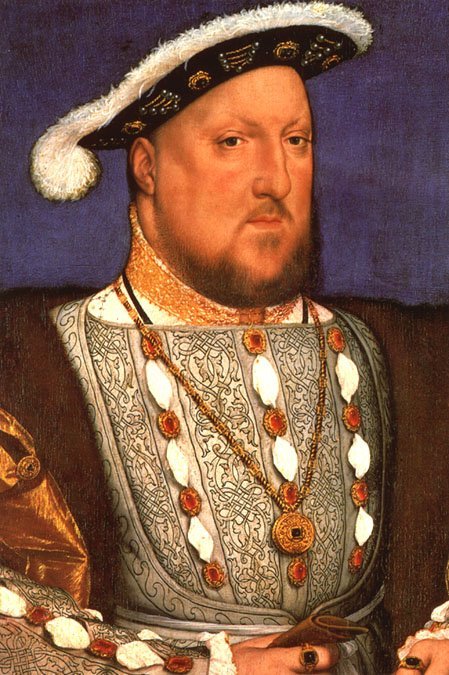 When Henry became King in 1509 his affection for his friend grew stronger. In the early years of his reign, he raised Brandon up to create him Duke of Suffolk. In 1515 Charles Brandon committed treason by marrying Henry VIII's younger sister Mary Tudor, without the King's permission. While initially pretending to be furious over the match and forcing the pair to pay a staggering fine (of which barely any money was actually repaid), Henry quickly accepted his beloved friend back at court. Certainly, this is a sign of the love that Henry held for Brandon! In addition to this he spent a great deal of his day with the Duke passing the time with physical entertainments such as jousting, hunting, hawking and playing various sports. Anyone that knew the King or saw Brandon and Henry VIII together would have been able to recognise the close bond between the pair.
Philippe De Bregilles, writing to Margaret of Savoy in August 1513, referred to Brandon as the "second King."
Sebastian Giustinian, Venitian Ambassador at the English court between 1515 and 1519 wrote that: "Charles Brandon Duke of Suffolk, nearer than any other to the King in age, tastes, and love of martial exercises, shared much of his confidence, although he was infinitely inferior to Henry in all literary and intellectual qualifications. "He is associated with his Majesty," says Giustinian, "tanquam intelligentiam assistentem orbi, which governs, commands, and acts with authority scarcely inferior to the King himself."

Letters and Papers, Foreign and Domestic, During the Reign of Henry VIII describe Brandon's relationship with the King stating: "for the affection which the King entertained for Charles Brandon, afterwards Duke of Suffolk. Henry's partiality to this brilliant nobleman exceeded the bounds of ordinary friendship. He pushed Brandon's fortunes with the affection and assiduity of a brother."
While Brandon was neither a great politician nor found love in letter writing or academic pursuits he still possessed many talents and skills that greatly endeared him to the King. Elizabeth Benger, in Memoris of the Life of Anne Boleyn, describes Brandon as "endeared to his master by sympathy in tastes, habits and amusements."
James Granger wrote of Brandon in 1824 "Charles Brandon was remarkable for the dignity and gracefulness of his person, and his robust and athletic constitution. He distinguished himself in the tilts and tournaments, the favourite exercises of Henry. He was brought up with that Prince, studied his disposition, and exactly conformed to it. The conformity gradually brought on a stricter intimacy; and the King, to bring him nearer to himself, raised him from a private person to a duke."
Brandon "studied his disposition, and exactly conformed to it", this very quality, the ability to read his friend and to be able to conform to the King's wishes and desires, is ultimately what made Charles Brandon the success that he was and helped to form an unbreakable bond with Henry. He knew his King, perhaps better than anyone else in Henry VIII's life. He knew what angered the King, what he liked, what he did not like, he knew what made him happy and what he despised. This did not mean that Brandon did not hold his own beliefs and opinions separate from the King. Brandon showed in his life that he did not always agree with Henry. He did not agree with Henry's treatment of his wife Katharine of Aragon when he banished her from court, he also did not agree with Henry's romantic interest in Anne Boleyn, and yet despite speaking against these matters Brandon knew how far he could push his own personal thoughts and opinions and when he had to conform to the King's wishes.
Brandon was careful not to speak publicly about his personal thoughts and religious beliefs. While a reasonably conservative Catholic, Brandon knew the King wanted reform and change and he went along with it. He was careful to keep his political views to himself and only moved against others, such as the Boleyn faction, when he believed that it was important for his own standing with the King. Despite all the religious and political upheavals in England throughout his life Brandon always managed to walk the fine line of keeping those around him happy and being loyal to his friend and King.
Through a friendship that lasted almost all of his life, Charles Brandon came to know his King and friend possibly better than any other at court. Brandon died on 22 August 1545 and it is said that the King was struck with grief at the loss of his longest and most loyal friend, declaring that Brandon had been one of his best friends. He went on to say that Brandon had always been loyal and generous and that he had never taken unfair advantage of a friend or enemy and was truly fair towards all his political enemies. To pay tribute to his beloved friend, Henry VIII ordered that he be buried with great ceremony at the Chapel of St George at Windsor Castle, where Henry would be buried less than two years later.
Charles Brandon and Henry VIII formed a deep and lasting friendship that developed in their youth and grew throughout the years, aging with them and only ending in Brandon's death. It seems almost fitting that Brandon was buried but a short distance away from his dear and beloved friend King Henry VIII.
Sources:
Benger, E 1822, Memoirs of the Life of Anne Boleyn, Queen of Henry VIII, Abraham Small, Available from the collections of New York Public Library.
Granger, James 1824, A Biographical History of England, from Egbert the Great to the Revolution, Volume 1, W. Baynes and Son, London.
Hutchinson Robert 2006, The Last Days of Henry VIII, Phoenix, London.
Letters and Papers, Foreign and Domestic, of the Reign of Henry VIII, 1509-47, ed. J.S Brewer, James Gairdner and R.H Brodie, His Majesty's Stationery Office, 1862-1932.
Penn, Thomas 2011, Winter King The Dawn of Tudor England, Penguin Group, London.
Wilson, Derek 2009, A Brief History of Henry VIII, Constable and Robinson Ltd., London.