Tudor Times is the online repository for all things Tudor and Stewart (1485–1625)
On This Day

29th July 1504

On 29th July 1504 Thomas Stanley, Earl of Derby and King of Man, died. Stanley was one of the most successful of all the late mediaeval magnates. Holder of immense wealth and power in the north-east of England, he managed to retain favour with Lancaster, York and Tudor kings. Born around 1435, he was a Squire of the Body to Henry VI from around 1454. He married Eleanor Neville, sister of Richard, Earl of Warwick, the most prominent supporter of Richard, Duke of York. He raised troops, ostensibly for Henry VI, before the Battle of Blore Heath in 1460, but did not deploy them, and by 1460, seemed to be a supporter of York. When Edward of York claimed the throne in 1461, Stanley was confirmed in his various estates and offices. 

With the rebellion of Warwick, Stanley, although initially luke-warm, returned to his Lancastrian allegiance. Following Edward IV's return, Stanley was once again in favour with York, and, his wife having died, was married to Lady Margaret Beaufort, a prominent Lancastrian heiress. On the death of Edward IV, Stanley was unenthusiastic about the usurpation by Richard III, but was soon reconciled, taking part, with his wife, in the coronation. During the rising of the Duke of Buckingham in 1483, Stanley picked the right side, and was rewarded with many of the Duke's lands and offices. At Bosworth, however, he brought in his troops in support of his step-son, Henry Tudor. Under Henry VII, he continued to accumulate lands and offices.

On This Day

28th July 1540

On 28th July 1540, Thomas Cromwell, Earl of Essex was executed on Tower Hill. For nearly ten years, Cromwell had been Henry VIII's most valued servant and a prime contributor to the massive legislative and religious programme that had transformed the country. As a man of 'low' birth, he was not really accepted by Henry's more aristocratic councillors, and nor was he popular in the country at large (although the London population valued his charity). 

Over the centuries, Cromwell has generally been portrayed as ruthless and power-hungry, or at best an efficient and dull bureaucrat. Of late, the best-selling novels by Hilary Mantel, Wolf Hall, and Bring up the Bodies, which have Cromwell as a rational and likeable protagonist, have inspired modern biographers to take a fresh look at him. Whatever his character may actually have been, his talent and industry cannot be disputed – he rose from being the son of a small (and dishonest) trader in Putney, to being an Earl, a Knight of the Garter, and the King's chief minister.


On This Day

27th July 1593

On 27th July 1593, William Davies, a Roman Catholic priest, was hanged, drawn and quartered as a traitor at Beaumaris Castle (pictured) in Anglesey, Wales. Davies, who was in his mid-thirties, had been ordained at Rheims in 1585, before joining the English mission. A native of North Wales, he returned there to minister to a local population still broadly Catholic, with magistrates disinclined to enforce the law for church uniformity very strictly. 

In 1586, the Government stepped up pressure on magistrates to implement the laws against 'recusants and obstinate persons in religion'. Davies was warned of an impending arrest and managed to secrete himself on the Little Orme with his colleagues for a period of nine months, the local gentry effectively turning a blind eye. During this period, Davies and his companions probably printed the first Welsh book to be printed in Wales – Y Drych Cristianogawl (The Christian Mirror). 

Davies was finally arrested in March 1592, for attempting to smuggle Catholics to France, via Ireland. Convicted of being a Catholic priest (by then an offence in itself), he was imprisoned first at Beaumaris, then in Ludlow. Returned to Beaumaris, the authorities tried to persuade him to attend the established church just once, to avoid the death penalty. He refused. Soldiers from Chester had to be brought in to carry out the sentence.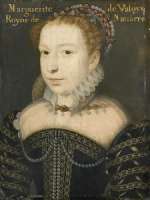 The Unique Career of Marguerite de Valois, Queen of Navarre
Marguerite de Valois is one of the most fascinating characters of the Renaissance period. Immortalised in Dumas' novel 'La Reine Margot', Marguerite's life was so full of incident that nothing needed to be invented. Dominic Pearce, author of a biography of Queen Henrietta Maria, tells us more about Marguerite's exciting life in this article.
Read article
---
Visit our book section for book reviews, book club, author interviews and browse our Tudor and Stewart book shop.
---
Get regular updates
Register your details to get regular updates