Tudor Times is the online repository for all things Tudor and Stewart (1485–1625)
On This Day

16th November 1528

On 16th November 1528, Marguerite, Queen of Navarre gave birth to a daughter, Jeanne. Marguerite, who was the sister of François I of France, had married, as her second husband, Henri II, King of Navarre, in 1525. Navarre was a country straddling the Pyrenees that had been fought over for centuries by France and Aragon. In 1512, Ferdinand II of Aragon captured the southern part, leaving Henri as King of only part of the ancient kingdom. Jeanne inherited his lands in 1555, aged seventeen. By that age, she had already been married and divorced (to the Duke of Cleves-Julich) and remarried to Antoine de Bourbon, head of the most senior branch of the French Royal family outside the reigning Valois. Her husband was crowned alongside her, and took the title of King of Navarre.

Jeanne's education and upbringing was controlled by her uncle, François, and it seems likely that she was influenced by her mother's humanist and evangelical leanings. Jeanne publicly converted to Calvinism on Christmas Day, 1560, following which Calvinism became the official religion of her kingdom, although her husband remained in the Catholic fold and the two became estranged. Antoine's brother was the Prince de Conde, and he and Jeanne became the leaders of the French Huguenot party. In order to broker a peace between Catholics and Huguenots, Jeanne agreed to a marriage between her son, Henri, and his cousin, Marguerite of France. She died a few months before it took place, and thus never saw the Massacre of St Bartholomew that erupted following the nuptials. Jeanne's son became Henri IV of France – more on him here

On This Day

15th November 1491

On 15th November 1491, Anne, the last independent Duchess of Brittany, was forced to submit to the French. Just eleven on the death of her father, François II, she fought desperately to keep the French from over-running her duchy. She arranged a proxy marriage to Maximilian, King of the Romans, that was solemnised in December 1490, but when she called on him for help against the troops of Charles VIII, he failed to materialise. With Charles at her border, she had no choice but to accept him as her husband, the contract even insisted that, should he die without a direct heir, the French Crown would choose her second husband.

Charles was an ungracious husband, keeping her away from her duchy, and not allowing her to be involved in its government. On his death, she was forced to marry his heir, now Louis XII of France. Louis became fond of Anne, and she was allowed to spend time in her duchy and take a role in government. She and Louis had two daughters. Frantic to keep Brittany independent, she willed Brittany to her second daughter, Renee, but Louis passed it to their elder daughter, Claude, who was married to his heir. The duchy thus became subsumed into France. Anne was a great patron of the arts, and her Book of Hours is one of the last of the great mediaeval illuminated manuscripts.

On This Day

14th November 1501

On 14th November 1501 Arthur, Prince of Wales and Katharine of Aragon were married at St Paul's Cathedral. The couple had only met a few days before, but the treaty which their marriage fulfilled, had been made as long before as 1489. Katharine was the daughter of the joint sovereigns of Spain, Queen Isabella of Castile (the larger territory in the Iberian Peninsula) and King Ferdinand II of Aragon. For Arthur's father to have agreed a match with the daughter of such illustrious parents not long after his own victory at Bosworth was a diplomatic coup. Throughout her childhood in Spain, Katharine had known that her destiny was to be Queen of England (although, curiosly, she did not learn English as child – presumably because French was still the language primarily spoken at the English court in Henry's reign). The wedding celebration was one of the most spectacular, and expensive, public spectacles of Henry VII's reign. Sadly, the bride, who turned sixteen a month after her wedding day, was widowed within a matter of months.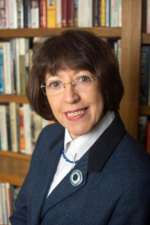 John Knox: Ladies' Man
When we researched John Knox, we had the common perception of him as a woman-hating kill-joy, and were surprised to discover that, in fact, he was an emotional man, with many close female friends. Dr Marie Macpherson is working on a trilogy of novels exploring Knox' human side, and we are delighted to have a non-fiction Guest Article from her about the women in the famous preachers' life.
Read article
---
---
---
Get regular updates
Register your details to get regular updates