Tudor Times is the online repository for all things Tudor and Stewart (1485–1625)
On This Day

22nd September 1515

On 22nd September 1515 in the Duchy of Julich-Cleves-Berg, a daughter, Anne, was born. Anne of Cleves was one of four children and was brought up strictly by her mother Maria, Duchess of Julich in her own right. The court of Cleves was heavily influenced by the thinking of Erasmus, but did not formally adhere to Lutheranism. This moderate position, and the position of Anne's brother-in-law, the Elector of Saxony, as head of the Lutheran Schmalkaldic League that opposed the Emperor, made her a very suitable choice for a wife for the King of England.

Henry became enamoured of the portrait of her by Holbein, and was eager to have her as his bride. Unfortunately, when they met in the flesh, he found her profoundly physically unattractive. She also had few of the courtly accomplishments that his previous wives had had. Nevertheless, the marriage took place, and Anne became Queen of England in 1539. Her jointure was generous - it was to be as 'ample' as that of the late Queen Jane Seymour. Unable to perform his marital duties, and no longer wishing to be in League with the Lutherans, Henry had the marriage annulled. Anne acquiesced, and continued to reside in England, apparently on excellent terms with Henry (now transmogrified into her 'brother') and his children. She received the castles of Hever and Richmond as part of the divorce settlement – not bad for 6 months work!

On This Day

21st September 1516

On 21st September 1516 Matthew Stuart, later 4th Earl of Lennox, was born. His grandfather, the second earl had been killed at Flodden, and his father, the 3rd Earl, was in dispute for precedence with the Hamilton Earls of Arran and was murdered by one of his party in 1526. Following this, Matthew was sent to France, to be brought up with another branch of the Lennox Stuarts. Matthew spent most of his youth in France, hence the change in the spelling of his name from Stewart to Stuart. He was in the army of Francois I and fought with some distinction in the Italian Wars.

On the death of James V in 1542, when the Earl of Arran took the role of Regent, as heir to the baby Mary, Queen of Scots, Matthew returned to Scotland, during the War of the Rough Wooing. Initially, Lennox was an envoy of France, and it was rumoured that he planned to marry the widowed Queen Mother, Marie of Guise. So long as Arran remained pro-English, Lennox would remain pro-French. However, as the political landscape altered and Lennox changed allegiance. He joined the English party, and was rewarded in 1544 with marriage to the niece of the King of England, Lady Margaret Douglas.

Lady Margaret was also the half-aunt of the Queen of Scots. The Lennoxes had two sons who lived to adulthood. The eldest Lord Darnley married his cousin, Queen Mary, in 1565. Lennox had his Scottish estates restored, but, after Darnley's murder, faction fighting broke out again. A brief period of regency for his grand-son, James VI, ended in Lennox being shot, possibly by one of his own men.

Picture shows the Lennoxes in mourning for their murdered son.

On This Day

19th September 1521

On 19thSeptember 1521, Cardinal Lorenzo Campeggio, who was Bishop of Salisbury, and, in theory, England's advocate at the court of Rome, wrote to Cardinal Wolsey in London. In his letter, Campeggio says how delighted he was to read the 'golden book' that had been sent to him for presentation to the Pope. The book in question was Henry VIII's own handiwork – his 'Assertio septem sacramentorum contra M. Luther.' This was a polemic against the reforming Augustinian Canon, Martin Luther, whose criticisms of the Church were sending shockwaves around Europe.

The actual authorship has been disputed – did Henry write it himself, or was it ghost written by Fisher, Bishop of Rochester or Thomas More? Henry certainly had both the intellectual capacity and the interest to write it himself. Theological argument was one of his favourite pastimes. Erasmus (whose word cannot entirely be relied on as he was always eager to flatter anyone who might send him money) said he believed Henry was the author. It doesn't seem unreasonable to suppose that Henry developed the main arguments, perhaps in discussion with leading thinkers in the debating style that he often promoted. He was notorious for not actually enjoying writing, so he probably dictated the actual words, or perhaps gave an outline and then reviewed it.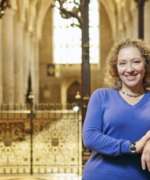 Elizabeth Tudor and Mary Stuart: ideas of queenship in the sixteenth century
Sarah Gristwood's 'The Game of Queens', looked at the unusual frequency with which women held positions as monarchs or rulers in the late fifteenth and sixteenth centuries. Two of the most famous of these queens are Mary, Queen of Scots, the first woman to be a queen regnant in the British Isles, and her cousin, Elizabeth I of England. In an insightful article for Tudor Times, to mark the publication of her latest fiction work, about one of Mary, Queen of Scots famous 'Four Marys', Sarah compares and contrasts the two queens.
Read article
---
The King's Pearl - talk and book signing
---
Get regular updates
Register your details to get regular updates