Tudor Times is the online repository for all things Tudor and Stewart (1485–1625)
On This Day

25th October 1519

On 25th October 1519, the marriage of Henry Courtenay, Earl of Devon and Gertrude Blount took place. Courtenay was Henry VIII's first cousin, son of Katherine of York. The two men had been companions, Courtenay having 'been brought up of a child with his Grace in his chamber'. Gertrude was the daughter of William, 4th Lord Mountjoy, Chamberlain to Katharine of Aragon. Gertrude was amongst the Queen's ladies, and husband and wife both attended the King and Queen at the Field of Cloth of Gold. Nevertheless, when Henry began annulment proceedings against Katharine, the spouses were not of the same mind. Courtenay (who had been promoted to the Marquessate of Exeter) assisted Henry as far as possible, whilst Gertrude remained a vocal supporter of the Queen. Gertrude fell under suspicion for having communicated with Elizabeth Barton, hanged for treason, and was obliged to act as godmother at the confirmation of the baby Elizabeth. Despite this long history of close friendship, Courtenay aroused Henry's suspicions, and was executed in the wake of the 'Exeter Conspiracy'.

Picture shows Henry Courtenay second from left in this Garter Procession

On This Day

24th October 1537

On 24th October 1537, Jane Seymour died at Hampton Court, twelve days after an excruciating labour had brought forth Henry VIII's heir. The exact cause of her death is uncertain – she did not (despite rumours) have a caesarean section. If she had, she certainly would not have made the immediate progress she did after the birth, being able to sit up in bed and receive visitors after the christening of the baby Edward. Modern research suggests that some of the placenta was left behind, leading to septicaemia. Attended by male doctors, rather than midwives, they may well not have understood that all of the necessary matter had not been expelled and thus did not treat her as more experienced midwives would have done.

Henry mourned his wife sincerely, as did the whole court. The King organised a splendid funeral for her. It was not customary for kings to attend funerals (other than their own!) so he withdrew to mourn in private. The role of Chief Mourner was taken by Jane's step-daughter Mary, who was originally so upset that the Marchioness of Exeter had to undertake the initial duties. Mary and the other ladies, including Lady Frances Brandon, Marchioness of Dorset, rode slowly behind Jane's coffin to its burial place at Windsor, where she still lies, Henry by her side.

Picture is of St George's Chapel, Windsor Castle, where Jane is buried


On This Day

23rd October 1597

On 23rd October 1597, Charles Howard, Baron Howard of Effingham, was created Earl of Nottingham. Nottingham, although three years younger than Elizabeth, was half-cousin to her mother, Anne Boleyn, and this family connection stood him in good stead. He probably first went to sea under the command of his father, Lord William Howard, 1st Baron Howard of Effingham, who was Lord Admiral in the reign of Mary I. Charles held various positions of responsibility throughout Elizabeth's reign, beginning with leading an embassy to France on the accession of François II in 1560.

In 1563, he married Katherine Carey, daughter of Lord Hunsdon. Katherine, the grand-daughter of Mary Boleyn, was his first cousin twice removed, and cousin to the Queen. They had five children before her death in 1603. Nottingham was involved in the suppression of the Rising of the Northern Earls in 1569, but his most notable achievement was the victory over the Spanish Armada. Appointed Lord High Admiral in 1585, in 1587, he was ordered to prepare the navy to confront the Spanish. A combination of seamanship, luck and the weather ensured a victory for England, and further victories over the Spanish in the 1590s led to the granting of the Earldom. In his naval seniority, he clashed with the Earl of Essex, and Essex' jealousy of other nobles, including Nottingham, lead to the Essex Rebellion, which destroyed him.

Nottingham continued to serve under James VI & I, remarrying in 1603 and siring a further two children before his death in 1624.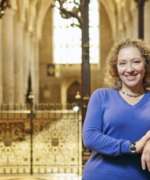 Game of Queens
We have been absorbed by our Guest Article from Sarah Gristwood, to mark the publication of her new book, 'Game of Queens'. This ground-breaking work looks at the prevalence of female power in sixteenth century Europe as a network of aunts, sisters, cousins, and in-laws ruled in England, the Netherlands, Scotland, France and Navarre – much to the horror of John Knox!
Read article
---
---
Get regular updates
Register your details to get regular updates