Tudor Times is the online repository for all things Tudor and Stewart (1485–1625)
On This Day

22nd November 1553

On 22nd November 1533 a son, Alfonso, was born to Ercole II d'Este, Duke of Ferrara, and his wife Renee of France. Ferrara was one of the ducal territories of Italy that was constantly in the firing line between France, the Empire and the Papacy, as each sought to control it. The marriage of Alfonso's parents had brought a strong element of French influence, but Ercole II resented this and dismissed many of his wife's French suite. Relations between Alfonso's parents declined further when Renee was accused of heresy by her husband and forced to recant. Nevertheless, Ferrara sided with France and Pope Paul IV against Spain during the 1550s, as the Pope tried to resist increasing Spanish dominance in Italy. Alfonso himself served in the French army. He became duke in 1559 and was obliged to banish his mother for her continued Calvinism. Despite three marriages, he had no children. He continued the tradition of patronage of the arts for which the House of Este was well-known. In a curious genealogical mix, his grandmothers were Lucrezia Borgia (paternal) and Anne of Brittany (maternal) – both famous women of the renaissance, but with very different reputations!

On Alfonso's death, Ferrara was subsumed into the Papal States.

On This Day

21st November 1559

On 21st November 1559, Lady Frances Grey, nee Brandon, Duchess of Suffolk, died. Frances was the second child of Mary, daughter of Henry VII, known as 'the French Queen', and Charles Brandon, Duke of Suffolk. Her parents' marriage had taken place without royal permission, incurring the wrath of the King, so, although the couple were pardoned, a huge fine was exacted as punishment, leading to Queen Mary spending the majority of her life living quietly at Westhorpe Castle, in Suffolk, where Frances was brought up. Frances was married, aged just sixteen, to her distant cousin, Henry Grey, Marquess of Dorset.

The couple were of the same age, and seem to have been reasonably well matched. They had three daughters, Jane, Katherine and Mary. Dorset was an avid religious reformer, and their daughters were brought up to be zealous Protestants, although Frances' own views are not so clear. During her youth, Frances was on good terms with her two cousins, Princess Mary, daughter of Henry VIII, and Lady Margaret Douglas. The three seem to have spent considerable time together as young women in the retinues of Henry's later queens. On the death of Henry VIII, Frances' heirs (although not Frances herself) were named in Henry's will as successors, should he have no grandchildren.

Dorset became an important member of the Council set up to rule during the minority of Edward VI, taking the title of Duke of Suffolk on the death of Frances' half-brothers. Suffolk's association with the Duke of Northumberland led to a scheme to put their daughter, Jane, on the throne. The coup collapsed, but France was forgiven by her cousin Mary, now Queen. On the execution of Suffolk, Frances made a second marriage, quite as scandalous as that which her parents had entered into – more on that here.

Picture is the tomb of Frances Brandon, Duchess of Suffolk (1517 - 1559)


On This Day

20th November 1515

On 20th November 1515 (some accounts say 22nd) Marie of Guise was born in Bar-le-Duc, Lorraine. She was the granddaughter of Rene II, Duke of Lorraine, a sovereign duke, whose territory lay between France and the Empire. Her father, Claud, had taken service with François I of France, and was in high favour at the French court, although this was resented by high-born Frenchmen who felt that he had too much power for a foreigner. Marie spent her childhood in a convent, before being married to Louis d'Orleans, Duke of Longueville, in 1535, at the instigation of the King. She was widowed after a mere three years of apparently happy marriage, and was then given little choice but to remarry – her second husband being James V, King of Scots.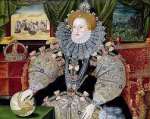 Elizabeth I and the Wars of the Three Kingdoms
The 17th November was celebrated for centruies as the date of accession of Elizabeth I to the throne of England - and she is still consistently cited as a great monarch. But did later monarchs suffer from some of her failures? Dr Linda Porter examines the evidence in a fascinating Guest Article.

Read article
---
---
---
Get regular updates
Register your details to get regular updates