St Leonard's Church, Old Warden
Hidden gem of Victorian gothic fantasy, with a surprising Tudor twist
Chapter 1: The Church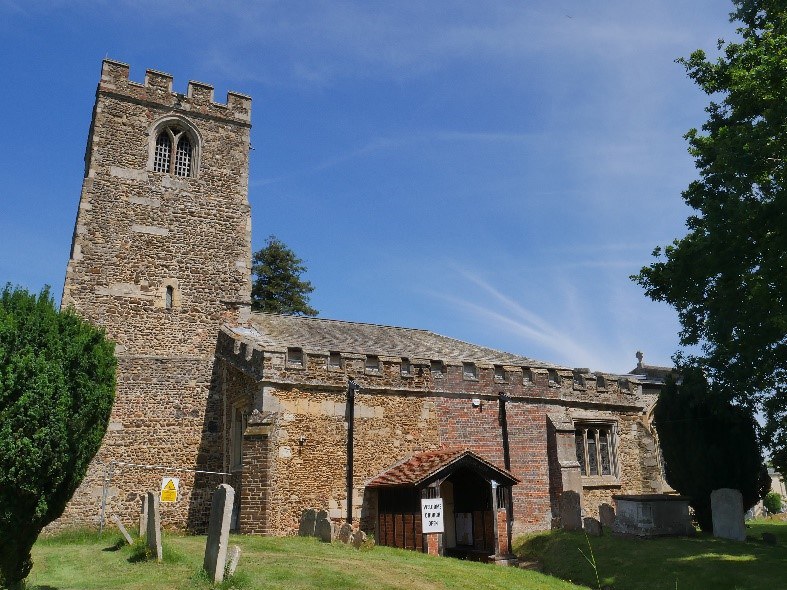 From the outside, you can see the west tower of flint, the lower part dating from within fifty years of the Norman Conquest, whilst the upper parts were rebuilt during the fifteenth century. The tower houses six bells of which the oldest probably dates to the seventeenth century. The south aisle is a mix of original flint, Tudor diapered brick, and restoration stone block, whilst the exterior of the east end was entirely rebuilt in the Victorian era. Unusually, there is no north aisle, which is not especially remarkable from the outside, but gives a slightly lop-sided feel inside.
As soon as you see the decoration on the church door (under the 1930s porch, contributed by Dorothy Shuttleworth), you know you are in for a riot of carving, and the interior does not disappoint. There is a heavily carved top to the font, an upper gallery on carved pillars, and rows of box pews, with edges of carved pie-crust. The ceilings, over both the nave and chancel are heavily carved, the latter also decorated with coats of arms. The west tower dates from the Norman period and is in urgent need of repair. This south aisle has the memorial to the war dead of the village, and over it, the aforementioned gallery.
Whilst most of the stained glass is from the Victorian restoration, there is one window in which some of the glass dates from around 1376. The quatrefoil at the top was replaced in the nineteenth century. The main left panel depicts Walter Clifton, who was abbot of Warden Abbey from the late 1360s to 1397, praying to St Martha. Unfortunately, the over-zealous 3rd Lord Warden had his face and crozier altered to match nineteenth century ideas of how a Cistercian abbot should appear. Similarly, the face and bodice of St Martha herself, in the right-hand panel, has been altered.
The church is a lovely, quirky expression of the 3rd Lord Warden's taste and his desire to recreate a mediaeval parish church.
The Tudor Twist
Towards the east end of the chancel, just before the altar, there are more carved choir stalls. At the back of them, are four wooden panels, inserted into larger panelling. Given the riot of carving elsewhere, it would be quite easy to miss these – but take a closer look, and you will see the initials AC with swags and tassels. They are four of the recently re-discovered Anne of Cleves Panels – more on them here.