Elizabeth of York: Life Story
Chapter 13 : The Final Days
There is more detail about the year 1502 than any other of Elizabeth's life, as her Privy Purse expenses for the period are available. It is difficult to know how much of her expenditure reflects her personal taste, and how much reflects the public manifestation of her role as Queen, but it does give us some fascinating insights into daily life.
The expenditure includes clothes for herself and her children, warm clothes for her brother-in-law, William Courtenay, still in the Tower, and significant amounts of money for charity. She also paid for two priests to visit more than thirty shrines and make offerings on her behalf. These ranged from the great shrine of Walsingham, to the chantry of the late King Henry VI at Chertsey.
A small item showing the closeness of King and Queen, is the payment for materials and the making of lace and buttons for Henry's Garter mantle.
She also gave tips to the servants of various courtiers and more humble subjects sending small delicacies for the table, such as the 3s 4d given to William Shad for bringing puddings, the 12d given to the servant of William Bulstrode for bringing warden pears, and an unspecified sum to the Protonotary of Spain for a present of oranges.
Many of her expenses relate to music – payment for instruments, for lute strings and for minstrels to play.
Despite her pregnancy, Elizabeth was well enough to make the usual journeys between the royal manors in the Thames Valley and London – Greenwich, Richmond, Baynard's Castle, Westminster, Windsor and Woodstock. She also made an extended trip to South Wales, visiting Monmouth and Raglan Castle, returning via Chepstow, Thornbury and Berkeley Castle.
Elizabeth's biographer, Alison Weir, sees in this journey, which she seems to have taken without Henry, an indication that an estrangement had arisen between the royal couple, probably based in Elizabeth's hurt and bewilderment at Henry's imprisonment of William Courtenay, on very limited evidence. Henry's biographer, Terry Breverton, suggests that Henry was with Elizabeth in Monmouth, and also at Raglan, where he spent much of his childhood, as ward of Sir William Herbert, the Yorkist Earl of Pembroke.
The royal couple were definitely together at Langley in Berkshire in late September, and they travelled together to Minster Lovell, Ewelme and Easthampstead. Elizabeth was back at Richmond by 25th October. As she entered her final trimester, she continued travelling – to Greenwich, to Baynard's Castle, to Westminster, the Tower, and Mortlake. Christmas was spent at Richmond, and then on 26th January she returned to the Tower.
It is not clear whether Elizabeth intended to give birth at the Tower. It seems more likely that she would have chosen Richmond or Greenwich – modern palaces, rather than the ancient fortress. Also, it was customary for her to withdraw from the court a month before the expected birth, whereas she had only been at the Tower for a week when she went into labour.
Elizabeth's final child, Katherine, was born on Candlemas Day, 2nd February. She survived the birth, but within days both mother and baby were mortally ill and they probably died the same day – 11th February, Elizabeth's thirty-seventh birthday – although the baby may have lived another week.
Henry and her children were overcome with grief. Henry ordered a magnificent funeral and paid for 636 masses to be sung. The total costs of the obsequies came to nearly five times the amount spent on Prince Arthur's funeral. The Queen's sister, Katherine, was Chief Mourner, following the coffin as it made its solemn way through London. The streets were lined with mourners – Elizabeth had been popular, and her death caused great sorrow amongst her people. Thirty-seven virgins, dressed in white, held lighted tapers as her cortège passed through Fenchurch Street and Cheapside. It was not customary for kings to attend funerals, but Henry's step-father, the Earl of Derby, and her half-brother, the Marquis of Dorset, were there, as was the Earl of Essex and many other lords.
Shortly before Elizabeth's death, Henry had begun work on his new Lady Chapel in Westminster. He had commissioned a tomb effigy for them by the Italian sculptor, Pietro Torregiano, although it was not constructed until after Henry's own death. Elizabeth still rests beneath the superbly worked bronze, side-by-side with the husband with whom she founded a dynasty.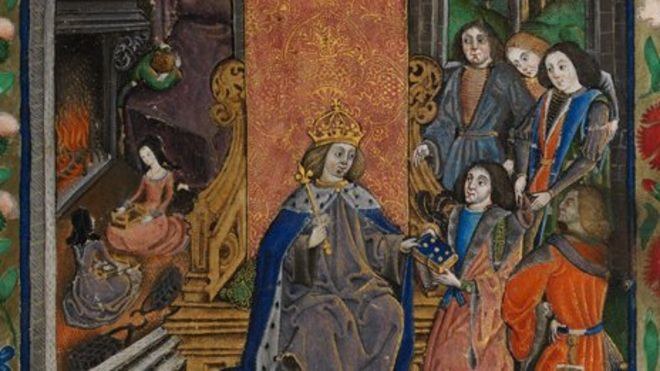 Elizabeth of York
Family Tree