Gloriana's Bloody Age
Massacre and Misrule in Elizabethan Ireland
Chapter 6 : The Nine Years War
The Nine Years War (1593-1603), sometimes known as Tyrone's Rebellion, was borne from a confluence of circumstances, but central to it was the erosion of Irish noble privileges and the ongoing attacks on the native Irish landholding by the Crown, the rise to prominence of Hugh O'Neill, 2nd earl of Tyrone. To this tinderbox was added the irredeemably corrupt Lord Deputy of Ireland, Sir William Fitzwilliam, whose machinations to get rich at the expense of the native Irish lords gave the Irish a choice; lose their lands or war. Under the leadership of Tyrone, the Irish chose war.

The earliest shots of the war were fired in Fermanagh and northern Connacht as Tyrone fought a proxy war against the English while still claiming to be loyal to Elizabeth. In February 1594, an English force led by Captain John Dowdall captured Enniskillen castle on Lough Erne. Dowdall reported that given the circumstances, the Irish 'craved parley', whereas another said that Dowdall had threatened to destroy the fortifications with gunpowder if they did not surrender. Other Irish sources suggested the position was betrayed. Either way, the Irish 'presently set open the doors of the castle and came forth and yielded'. Regardless of how the castle fell, what happened next is clear; Dowdall put those in Enniskillen to the sword; defenders, civilians, men, women and children. Dowdall claimed to have killed 150 out of 200. Irish sources provided somewhat more detail, with O'Sullivan Beare recounting 'the enemy who slew all the defenders…Even the old men, children and women who had fled to the castle were thrown headlong from the top of the bridge'. Captain Thomas Lee, an English officer, was appalled by what he saw. Lee noted that though the Irish surrendered 'upon composition, and your Majesty's word being passed to the poor beggars that kept it, they were all notwithstanding dishonourably put to the sword in a most miserable state'. Even Lee, who was no stranger to vicious acts, was appalled by what he saw at Enniskillen.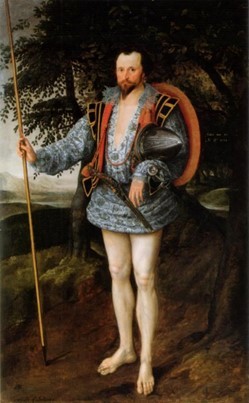 One could suggest that Dowdall's this action was perpetrated by an individual far from his chain of command. However, Lord Deputy Russell's behaviour at the taking of Cloghan Castle in 1596 suggests the bloody attitudes were endemic to the English armies in Ireland. The occupants refused Russell's calls to surrender. Therefore Russell fired the castle's thatch roof the following day, and his troops gained entry. Forty-six died, some in the flames, but 'most…were cast over the walls and so executed'. From the ordinary foot soldiers to the highest English authority in Ireland, killing Irish civilians in cold blood, regardless of sex, was acceptable. However, for the first seven years of the conflict, Crown forces sat mainly on the defensive, leaving little opportunity to do anything but hold on to the towns and garrisons.