Catherine Carey in a Nutshell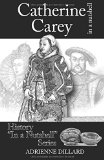 Author: Adrienne Dillard
Published: MadeGlobal Publishing Ltd on 10th October 2015
Tudor Times Welcomes 'Catherine Carey in a Nutshell'
We are delighted to be a stop on the book tour for 'Catherine Carey in a Nutshell', a new non-fiction book by Adrienne Dillard, the author of 'Cor Rotto: A Novel of Catherine Carey'.
Catherine is a fascinating figure. The daughter of Mary Boleyn and Sir William Carey, she was first cousin to Elizabeth I, to whom she was very close and served as the first Lady of the Bedchamber for many years.
Adrienne has written the article below for Tudor Times on the relationship between Catherine's husband, Sir Francis Knollys, and Elizabeth I, following Catherine's death.
---
Book Giveaway
For your chance to win a paperback copy of 'Catherine Carey in a Nutshell', just leave a comment below between now and midnight on 27 November 2015 (GMT), telling us why you'd like to win the book.
You must be subscribed to Tudor Times newsletter mailing list and make sure your name and/or your email address appears in your comment. If you need to sign up to our mailing list, just click here.
Soon after 27 November, we will choose the winner at random and contact them via email. The winner has 7 days to respond, before we choose a new winner.
This giveaway is open internationally.
Good Luck!
---
Next Stops on the Book Tour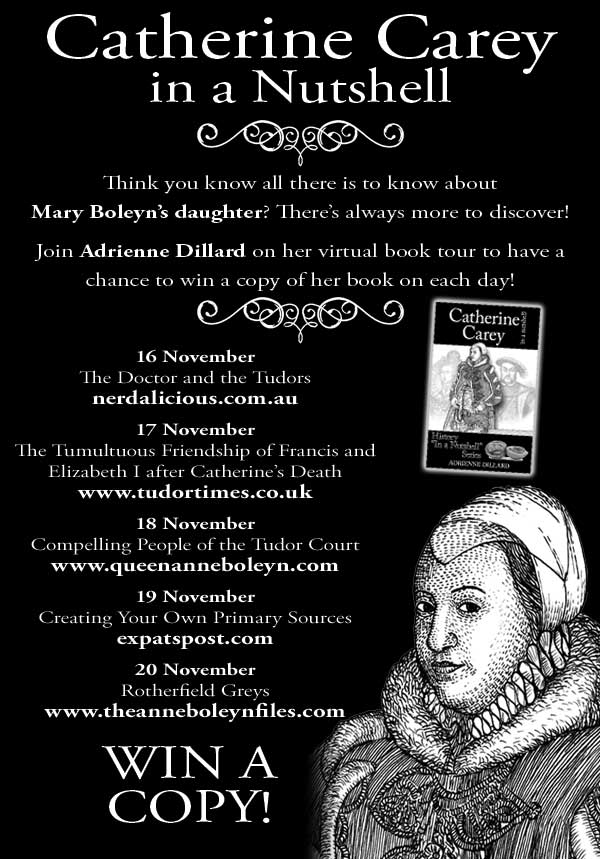 The Tumultuous Friendship of Francis and Elizabeth after Catherine's Death
The death of Catherine Carey Knollys in January 1569 left a great void in the hearts of her husband, Francis Knollys, and her cousin, Queen Elizabeth I. Elizabeth spent many months after the death of her devoted kinswoman under a cloud of grief and Francis spent his remaining years in bachelorhood, never finding anyone who could replace his beloved wife. Francis' final letter to the Privy Council from Tutbury, ten days after Catherine's death, reads: My case is pitiful. For my wife disburdened me of many cares. She kept all the monuments of my public charges as well as my private accounts and now my children, my servants, and all other things are loosely left without good order.
Francis retired briefly from court after his wife's unexpected death, but it wasn't long before he was back in the service of Catherine's royal cousin. Francis was known for his unwavering loyalty and dedication to Elizabeth before his wife's death and it's possible that their shared grief united them even more. However, as strong as the mutual respect and friendship may have been, it is important to remember that the two didn't always agree.
In 1571, after his appointment as Treasurer of the Household, Francis was sent to Parliament to speak on behalf of the Queen on a matter that was causing heated debate in the House. A tenacious Puritan faction determined to reform the Book of Common Prayer was met with Francis' calm resistance, even though his own religious leanings were decidedly puritanical and he sympathised greatly with their demands. Francis was diplomatic and attempted to sooth the group with assurances that Elizabeth would agree with them in time and it was not their place to question the Queen's motives.The group was unmoved and a reformer named Strickland was sequestered for his insolence. Francis may not have agreed with Elizabeth in these tenuous matters of religion, but he was steadfast in his defence of her action and he continued to represent her interests for the remainder of the session.
When Francis returned to Parliament the next year to address the House's demand for Mary Stuart's execution, he and Elizabeth were on the same page. Francis had spent many months with the Scots Queen, and while he didn't agree with her Catholic beliefs, he found her to be quite extraordinary. Though he was alarmed at by her 'bloody appetite to shed the blood of her enemies,' he was adamant against her execution. At the same time, the Duke of Norfolk's life hung in the balance. His treasonous actions with Mary were to be punished as well. Francis agreed that he should be put to death, but encouraged the House to allow the Queen time to consider her decision. Their patience was rewarded a week later when the Duke was executed the very next Monday. More than a decade later, Francis changed his views regarding Mary's execution after the Babington plot threatened the Queen's safety.
From the safety of his position of favour, Francis continued to urge Elizabeth, in private, to listen to her councillors. He questioned her statesmanship and encouragement of flatterers and, eventually, became obsessed with her physical safety. In addition, she was notorious for constantly changing her mind and her inconstancy greatly aggravated her devoted friend, but regardless of whether or not Francis agreed, he publicly supported the Queen.
The dynamic friendship between the Queen and her treasurer began to degrade around 1578.The marriage of Francis' impetuous daughter, Lettice, to Elizabeth's most beloved and favoured courtier, Robert Dudley, seems to have strained the relationship. Lettice was forever banned from court and Francis was cautioned that 'his zeal for religion would cost him dear.'
Francis continued his service to the Crown, pushing for greater protection for Elizabeth and acting as Colonel-General of footmen at Tilbury during the attack from the Spanish Armada, but his dissatisfaction with the Queen's actions continued to grow. Furious that Elizabeth allowed the Archbishop of Canterbury to prosecute Puritan preachers, Francis authored a series of articles accusing the Archbishop of Popish tyranny and recklessness towards the Queen's safety. He then went a step further and urged the Queen to banish Catholic recusants and exclude those who had married recusants from public office.
Francis remained at odds with the bishops and marvelled that that the Queen felt as great a threat from the Protestants as she did from the Catholics. On 14 May 1591, he declared his intent to retire from politics, complaining bitterly of Elizabeth's distrust in him. Nevertheless, his sense of duty compelled to him to serve in the Parliament of 1593 and when he died on 19 July 1596, he was still holding the position of Treasurer of the Household.
As tumultuous as the friendship between Francis and Elizabeth seems to have been on the surface, the fact that he was allowed to be so open and frank with his criticism is a testimony to the strength of their bond. Few people at Elizabeth's court would have been allowed such liberties without serious repercussions. Furthermore, she honored him as a Knight of the Garter even after his angry outburst. Perhaps even more telling is Francis' loyalty to a woman that frustrated him to no end. No matter how much he disagreed with the Queen's policy, he almost always defended her actions and, though he threatened to leave her service on numerous occasions, he never could follow through. Francis forever remained a loyal servant to his wife's royal cousin.
References:
Ford, David Nash Royal Berkshire History.
http://www.berkshirehistory.com/bios/fknollys.html
History of Parliament Online
MacCaffrey, Wallace T. (2004). "Knollys, Sir Francis (1511/12-1596). Oxford Dictionary of National Biography (online edition). Oxford University Press.
---
About the Author
Adrienne Dillard is a graduate with a Bachelor of Arts in Liberal Studies with emphasis in History from Montana State University-Northern.
Adrienne has been an eager student of history for most of her life and has completed in-depth research on the American Revolutionary War time period in American History and the history and sinking of the Titanic. Her senior university capstone paper was on the discrepancies in passenger lists on the ill-fated liner and Adrienne was able to work with Philip Hind of ' Encyclopedia Titanica' for much of her research on that subject.
---