Margaret Beaufort: Appearance & Possessions
The only certain knowledge we have of Margaret's physical appearance, is the information that she was of slight stature. This was particularly noted in her traumatic childbirth.
Her funeral effigy, which was probably taken from a death mask, shows a thin woman with high cheekbones, a hooked nose and drawn cheeks.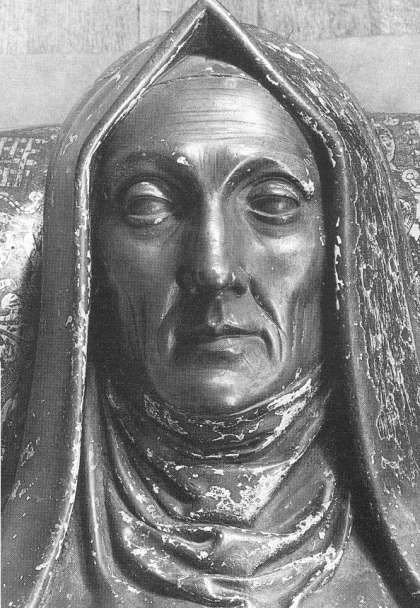 The pictures labelled as likenesses of her, none of which date from her lifetime, are sufficiently like the funeral effigy to suggest that they are copies of an original. There is another picture, alleged to be of her as a young woman, but we would question it, as the headdress style dates to the early 1500s, when Margaret was in her sixties.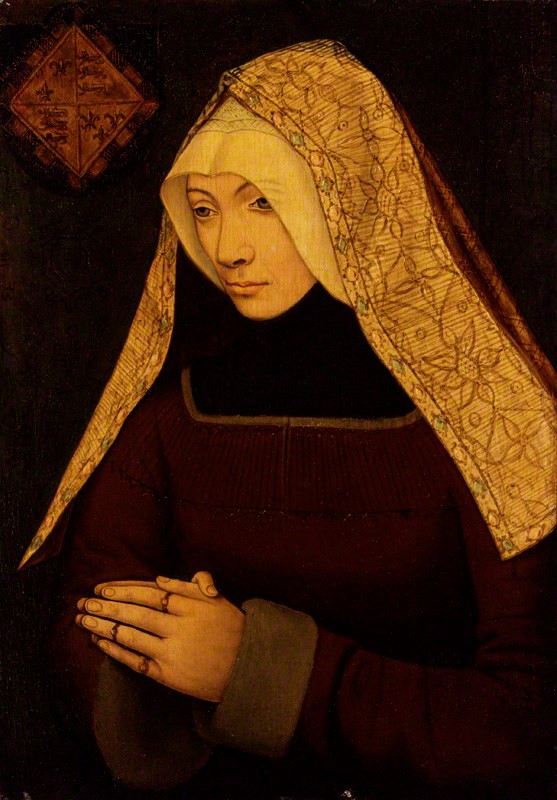 Henry VII was a thin man and is recorded to have been blonde with grey eyes. Given that the majority of the English Royal family was fair and blue-eyed, it certainly seems possible that Henry inherited these traits from his mother, especially as his father was of mixed Welsh and French descent.
Of course, her slight figure could have been partially the result of the regular fasting and generally abstemious life-style she followed. She was certainly able to have a dig at fatter women. When she was presented with a pair of gloves from Henry VII's arch-enemy, Margaret of York, Dowager Duchess of Burgundy, she found them too large. She commented that the ladies of Europe obviously had 'great personages' to match their 'great states.'
The pictures that we have of Margaret show her soberly garbed in black with a widow's coif, however black was not necessarily just colour of mourning but was one of most expensive fabrics available. The inventory after her death shows that she also had a number of scarlet gowns and the black was often decorated with ermines.
Another indicator of wealth and status that Margaret enjoyed were tapestries. Tapestries are some of the most valuable items in Tudor England. A group, known as a ' chamber' of tapestries would be hung in a room narrating a story. They would then be moved with the owner to different houses.
Margaret's tapestries included ones of the Labours of Hercules (later sold to Thomas Howard, Earl of Surrey for £40) and other themes of classical antiquity as well as biblical stories. All of her tapestries and hangings were liberally bedecked with Beaufort portcullis and red roses. Her personal items included ivory combs, purses, cramp rings, little silver pots for cosmetics and medicines, a golden goblet with a portcullis silver candlesticks and spoons. As a nod to her advancing age she had two pairs of gold rimmed spectacles.
Margaret left boxes of jewels, including pearls, rubies, sapphires, Garter devices and, of course, a number of religious items and reliquaries. Her Chapel was filled with images of saints – St Mary Magdalen, St John the Baptist, St George, St Margaret, St Anne, Peter, and St Anthony. She fasted regularly, particularly in honour of her favourite saints. Saint Catherine was of special interest to Margaret as a patron of scholars. Margaret's devotion to the cult of the Name of Jesus explains the frequent use of the symbol IHS, representing His name, in many of the items and buildings associated with her.
Like all royalty and nobles of the period Margaret and her son enjoyed hunting. Margaret gave strict orders that her parks at Collyweston and Madeley in Staffordshire should be kept full of stock for the king's pleasure.
At her death her assets were valued at £14,724.
---
This article is part of a Profile on Lady Margaret Beaufort available in paperback and kindle format from Amazon.
---
Listen to our interview with Renaissance English History Podcast on Lady Margaret Beaufort here.
---

Lady Margaret Beaufort
Family Tree