James IV: Personality & Appearance
Chapter 4 : Traditional Religious Views
James may have been a modern king in many respects, but he was extremely traditional in the practice of his religion. His guilt over his father's death led him to wear an iron belt around his waist in penance, to which a link was added each year.
Payments in his accounts for worsted cloth to line it suggest that it was more symbolic than painful. He went on numerous pilgrimages to the various holy sites and shrines in the realm.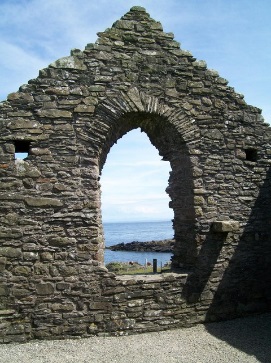 When his Queen, Margaret Tudor, was ill following the birth of their first child, he undertook a pilgrimage on foot, to the shrine of Saint Ninian, some 120 miles from Edinburgh, to pray for her recovery; giving alms at the outer kirk, the rood, the altar, the high altar, the altar of Our Lady and the relics.
The walk was sufficiently hard for him to need his shoes resoling, at a cost of 16d.
Largesse
An important aspect of kingly behaviour that obviously came naturally to James was the giving of extravagant "drinksilver", charity, and monetary presents for the little tributes that his people brought to him. The records show frequent payments such as the 14s given to a "poor maiden", another 14s to a woman who brought him butter at Stirling and 9s to a child who brought apples.
The most delightfully profligate expenditure of all was the 4s paid for wine to bathe the hooves of the horse owned by the tournament champion, Sir Anthony D'Arcy.