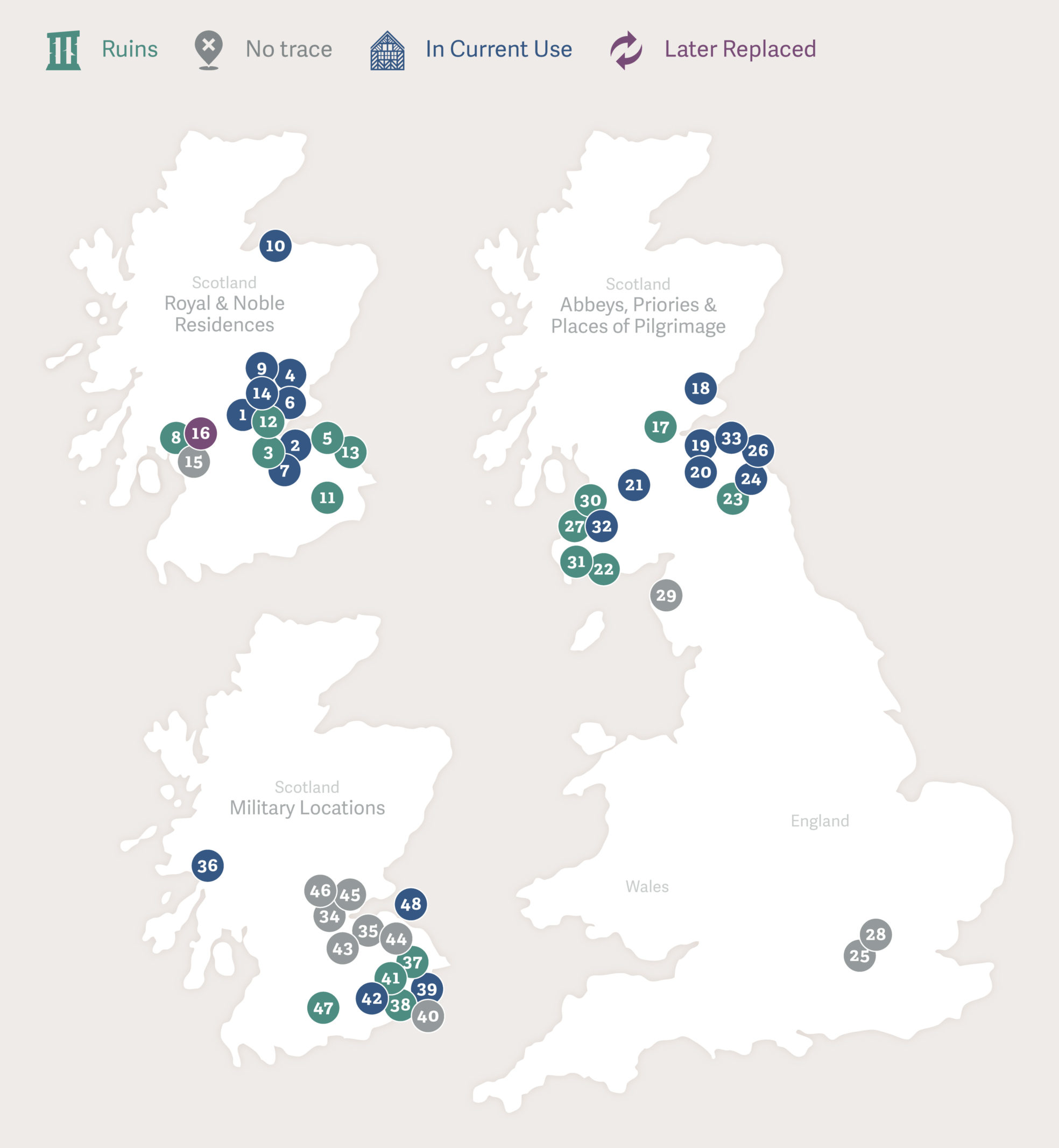 The main royal palaces were concentrated along the River Forth, between Stirling and Edinburgh, but James spent a good deal of time visiting the castles of his nobles, or other Royal Burghs, such as Perth and Ayr.
James was an indefatigable pilgrim, visiting Abbeys, Priories and holy places the length and breadth of his realm. He was also a speedy giver of justice, travelling around the country, hearing cases and giving judgements swiftly.
Finally, James was a soldier and a man fascinated by ships. He campaigned both in the Western Isles and on the Anglo-Scottish Borders, capturing and losing castles and towns.
Read about a typical year of travel in James' life.

The links below are to elements of James' life story explaining more about the location.
Map 1: Royal and Noble Residences

1. Stirling Castle
2. Edinburgh Castle
3. Linlithgow
4. Scone
5. Dunbar Castle
6. Falkland Palace
7. Holyrood Palace
8. Dumbarton
9. Methven
10. Darnaway Castle
11. Jedburgh
12. Dunfermline
13. Dunbar Castle
14. Perth
15. Inchinnan Palace
16. Castle Semple
Map 2: Abbeys, Priories and Places of Pilgrimage
17. Cambuskenneth Abbey
18. Scone
19. St Triduana's Chapel, Restalrig Edinburgh
20. St Giles Kirk, Edinburgh
21. Glasgow Cathedral
22. Shrine of St Ninian, Whithorn
23. Jedburgh
24. Ladykirk of Steill (Upsettlington)
25. Sheen Priory
26. Dunglas (Collegiate Church)
27. Crossraguel Abbey
28. St Michael, Wood Street
29. Whitehaven Priory
30. St John's Church Tower Ayr
31. Glenluce Abbey
32. Kilwinning
33. Whitekirk, Dunbar
Map 3: Military
34. Sauchieburn
35. Port of Leith
36. Dunstaffnage Castle
37. Norham Castle
38. Etal Castle
39. Ford Castle
40. Flodden
41. Twizellhaugh
42. Coldstream
43. Burgh Muir, Edinburgh
44. Ellemford
45. Tillicoultry
46. Dunblane
47. Lochmaben
48. Isle of May