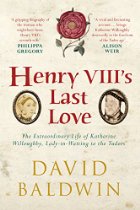 Author: David Baldwin
Published: Amberley Publishing on 15th March 2015
Tudor Times Welcomes "Henry VIII's Last Love"
We are delighted to be Day 4 of the book tour for "Henry VIII's Last Love", a new biography by David Baldwin. He has taken as his subject a woman who was an important force in mid-Tudor politics, and brought her to life. Through his extensive research into her own letters we gain a real insight into the character – both good and bad – of a woman who was one of Katherine Parr's closest friends, and, perhaps, Henry VIII's mistress.
---
About the Author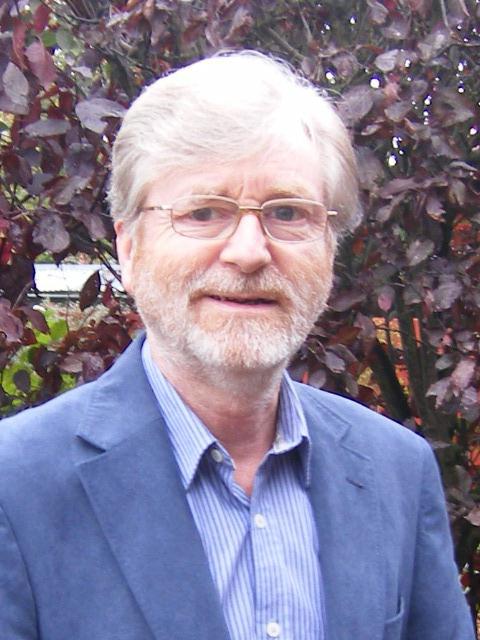 David Baldwin is a historian who has taught at the Universities of Leicester and Nottingham for many years.
He is the critically acclaimed author of:

The Lost Prince ('A fascinating new theory' The Daily Mail),
Elizabeth Woodville ('Inspirational… brings her alive for the general reader' Philippa Gregory),
Richard III ('A believably complex Richard, neither wholly villain nor hero' Philippa Gregory), and
Robin Hood ('Excellent… a pleasure to read' BBC History Magazine).
He lives in Leicester.
---
Praise for the Book
'A gripping biography of the woman who might have been Henry VIII's seventh wife ... David Baldwin is a brilliant historical detective.' Philippa Gregory (author of The White Queen).

'A vivid and fascinating account… brings Katherine Willoughby deservedly to the forefront of the Tudor age.' Alison Weir.
---
Extract from "Henry VIII's Last Love"
"Resident foreign ambassadors regularly informed their masters of any change in the situation in England, and few were more diligent than the Imperial envoys Eustace Chapuys and Francois Van der Delft. The vicissitudes of King Henry's personal relationships regularly reached the ears of King Charles V of Spain." – David Baldwin
Chapuys had left London in 1545, and may not have been aware of a story which his successor as Imperial ambassador, Francois Van der Delft, reported to Charles V in February 1546. 'Sire, I am confused and apprehensive to inform your majesty,' he began apologetically, that there are rumours here of a new queen, although I do not know why, or how true it may be. Some people attribute it to the sterility of the present queen, whilst others say that there will be no change whilst the present war [with France] lasts. Madame Suffolk [Katherine] is much talked about, and is in great favour; but the king shows no alteration in his demeanour towards the queen, though the latter, as I am informed, is somewhat annoyed at the rumours.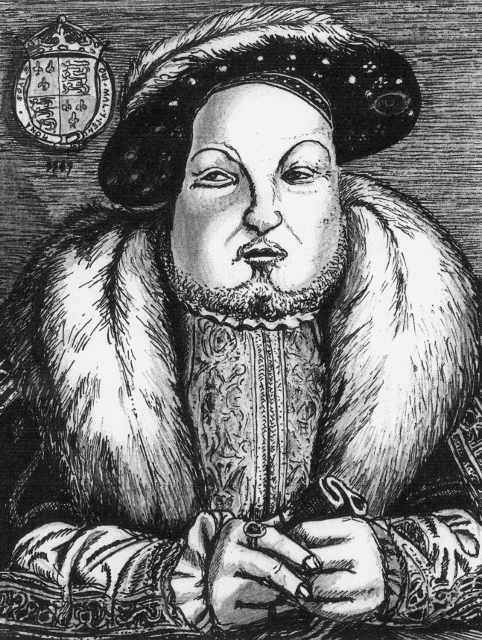 The speculation had reached Europe by early March when Stephen Vaughan, the king's factor in Antwerp, advised Thomas Wriothesley and William Paget that this day came to my lodging a High Dutch, a merchant of this town, saying that he had dined with certain friends, one of whom offered to lay a wager with him that the King's Majesty would have another wife; and he prayed me to show him the truth. He would not tell me who offered the wager, and I said that I never heard of any such thing, and that there was no such thing. Many folks talk of this matter, and from whence it comes I cannot learn.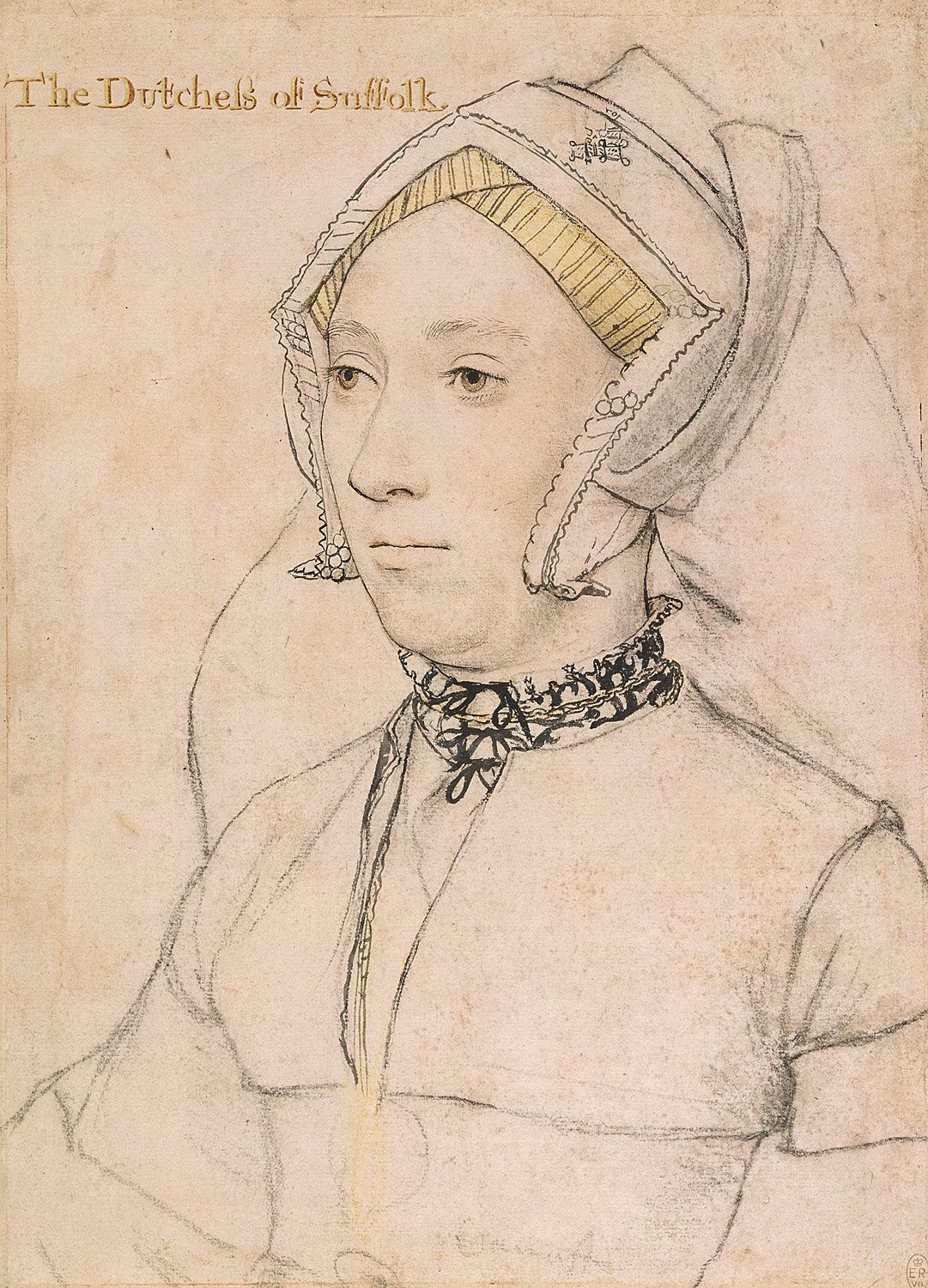 Rumours are sometimes without foundation, but there are strong indications that King Henry found Katherine attractive. They had been exchanging New Year gifts since 1534, and Chapuys noted that he had been 'masking and visiting' with her in March 1538, only months after Jane Seymour's death. 'The king,' he wrote, 'has been in much better humour than ever he was, making musicians play on their instruments all day along. He went to dine at a splendid house of his, where he had collected all his musicians, and, after giving orders for the erection of certain sumptuous buildings therein, returned home by water, surrounded by musicians, and went straight to visit the Duchess of Suffolk … and ever since cannot be one single moment without masks.' Henry might have wed her then had she been single, and the disappointments of his later marriages can only have enhanced his feelings towards her. It is possible that by 1546 he had grown impatient with Queen Catherine's failure to give him a second son, and more than ever saw this younger, perhaps more attractive, woman who was now a widow and the mother of two healthy boys as the solution to his problem. He would not have been the first man to think that a new, more exciting, relationship would somehow restore his lost youth.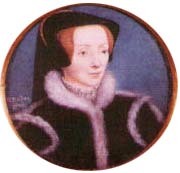 The real question, of course, is, had Henry and Katherine already become lovers, perhaps in the late 1530s or thereafter? And had Charles Brandon, the courtier par excellence, turned a diplomatically blind eye? The answer will probably always elude us, but William Carey had long tolerated the king's liaison with his wife, Mary Boleyn, and both he and Brandon would have been anxious to retain the irascible monarch's favour. Carey received substantial grants between 1522 and 1525 when Mary was Henry's mistress, presumably as a reward for his understanding, and it could have been for the same reason that twenty years later Brandon was allowed to buy Tattershall College on generous terms. Katherine had waited on both Anne of Cleves and Catherine Howard before joining Catherine Parr's household, and in this capacity would have been regularly at court and 'available' to Henry. And what Henry wanted, he usually got.
Extract taken from David Baldwin's new book, Henry VIII's Last Love (published by Amberley, 2015). The book is available to buy from all good bookstores, as well as online at the Amberley website, Amazon, The Book Depository and here at Tudor Times.
---
Next Dates on the Blog Tour
13th March - Visit The Tudor Enthusiast to learn about how Katherine, a committed Protestant, sought religious freedom in Europe. Her escape was not without danger. http://thetudorenthusiast.weebly.com/my-tudor-blog
14th March - The first review of the book will be published by The Henry Tudor Society! www.henrytudorsociety.com
15th March - The Anne Boleyn Files continue the story of Katherine's persecution as she and her family tried to find religious sanctuary in Poland. http://www.theanneboleynfiles.com/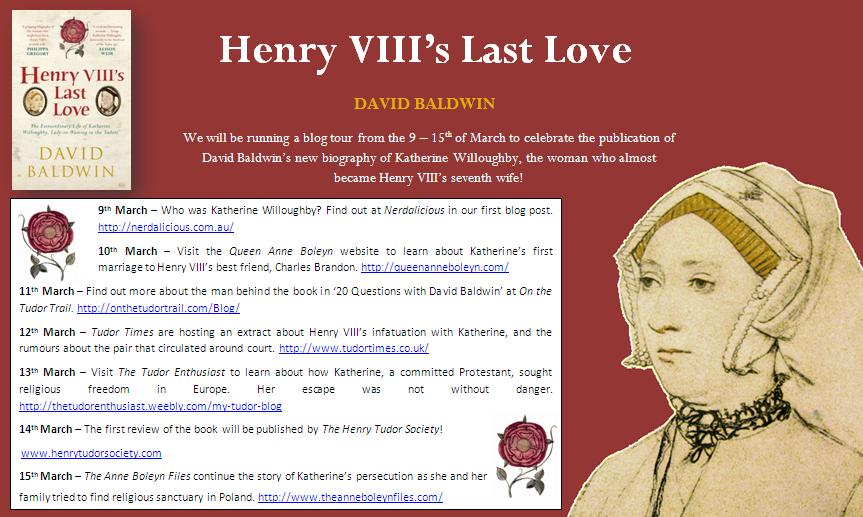 ---